Watch the Super Bowl on February 4th and during the game make sure you play FanDuel's Big Game Bingo for your chance to win cash up to $25,000! Get your Bingo card and follow along during the game. Play free for a share of over $25,000 in prizes.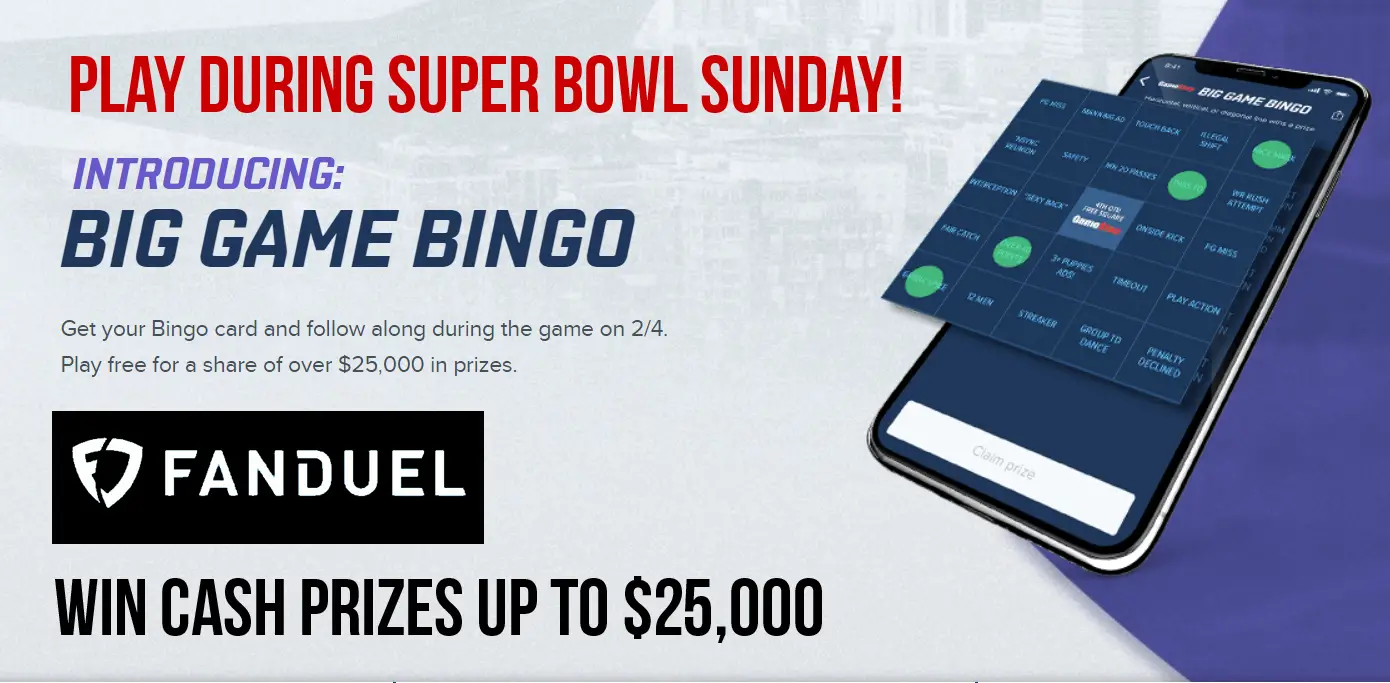 Official Rules: open to US, DC, 18 and older (21 in Massachusetts). Begins on February 4 and ends on at 11:59 pm on February 4. One entry per person.
Want to win more prizes during the Super Bowl? Check out our Super Bowl Sweepstakes Roundup.
Grab your FanDuel Bingo card during the Big Game and play for your chance to win.
Your Big Game Bingo card has 24 Super Bowl props + 1 free square in the center. Whenever one of your props hits, the corresponding square will be marked with a green circle. To win, just get 5 squares in a row in any direction, then tap or click Call BINGO!
Note: Your free square will not be eligible to complete a Bingo line until the start of the 4th quarter.
Once you receive your card, you're all set. However, if you claim your card after kickoff, you will not get credit for any props that have already hit. But don't worry, some props may hit more than once.
How to Enter: enter Contest through fanduel.com or using the FanDuel mobile application on your smartphone or tablet device.
To win, you must complete a row of five squares on your bingo card. See Rules for Glossary of Squares.
A completed row may be formed by completing all the squares in one column, row, or diagonally from top left to bottom right or top right to bottom left. Once a row is complete, the Call Bingo button at the bottom of your bingo card will change color, indicating that you may submit your card to win. The first player to click the Button with a completed row on his or her card will win the grand prize. Other winners will receive the consolation prizes in accordance with the prize table below. Finishing position will be determined by order in which players click the Button. If two or more players click the Button at the same time, the Grand Prize Winner will be chosen by a random drawing.
Events cannot occur until after the opening kickoff. Second-half events cannot occur until after the opening kickoff of the second half with the exception of half time show events. The free square for start of the 4th quarter will be deemed to have occurred once the ball is snapped at 15:00 in the 4th quarter.
FanDuel Big Game Bingo Prizes:
1st Place $1,000 + Xbox One S 500GB Madden NFL 18 Bundle from GameStop + $50 GameStop gift card
2nd-10th Place $200 + $50 GameStop gift card
11th-20th Place $100 + $50 GameStop gift card
21st-50th Place $75 + $50 GameStop gift card
51st-100th Place $50
101st-200th Place $25
201st-500th Place $10
501st-1,000th Place $5
1,001st-2,000th Place $3
2,001st-4,725th Place $2
Anyone Else Who Hits Bingo: Ticket to upcoming FanDuel contest