Enter for your chance to win Kindle Fire 8 32G Tablet and a $150 Amazon Gift Card PLUS there will be 10 Bonus prizes of $50 Amazon Gift Cards.
How to Enter: Find all 5 hidden books in the videos to win the grand prize. One bonus winner ever week, 5 grand prize winners! Lots of Prizes, Lots of fun! Free and Easy. Enjoy the hunt! Follow on Social media to receive clues and 10 bonus searches with a prize of $50 Amazon gift card.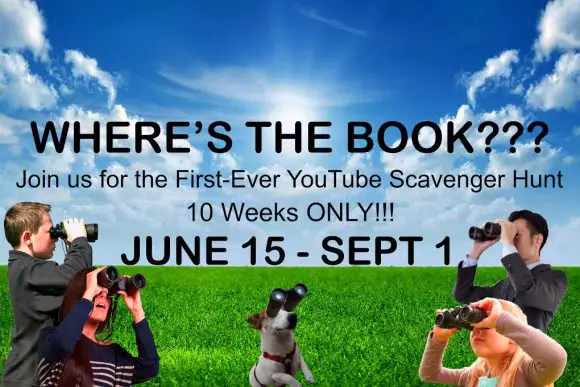 Official Rules: Open to United States, Canada; 13 years of age and older. Begins on June 15, 2017 and ends on September 1, 2017. Drawing Date: on or about September 1, 2017.
Your Challenge: Find the extraordinarily well-hidden books located deep in the heart of the best selling author, Carew Papritz's YouTube Videos
Over the next ten weeks "Where's the Book" will be releasing up to 20 videos only found on the best selling author Carew Papritz's YouTube channel. He has hidden a specially-marked version of his award-winning book "The Legacy Letters" in 5 of his 20 fun videos.
NOTE: The first person to find all 5 books wins the grand prize
Official Rules: Open to United States, Canada; 13 years of age and older. Begins on June 15, 2017 and ends on September 1, 2017. Drawing Date: on or about September 1, 2017. Entry Limit: one entry per person + bonus entries for completing various activities
Click Here to Sign Up | Subscribe to Carew's YouTube Channel | Official Rules
When you have found all 5 books, email the name of the video what time in the videos you found the hidden books to  IFOUNDIT@WHERESTHEBOOK.COM
Fifteen (15) Prizes:
First Place Prize: New HD Amazon Fire 8 Tablet and $150 Amazon gift card
Second Place Prize: New HD Amazon Fire 8 Tablet and $100 Amazon gift card
3 Third Place Winners: $75 Amazon gift card
10 Bonus Winners: $25 Amazon gift card