To celebrate its 27th year, Sutter Home is giving away $25,000 in their Build A Better Burger Recipe Contest is going on the road to discover another grand slam on the plate!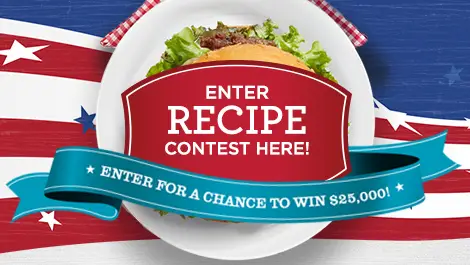 Click Here to Enter | Official Rules
Official Rules: Open to US, DC, 21 and older. Begins on May 1, 2017 and 11:59:59 PM ET on July 31, 2017. Entry Limit: There is no limit to the number of Approved Entries an individual can submit in the Contest. An Approved Entry is defined as a Recipe that has been registered and has received a corresponding Confirmation Email stating that the Recipe has been accepted into the Contest. The same Recipe may not be registered for the Contest more than once.
Mail-in Entry: hand print your contact information, the name of your Burger and text for your Recipe on a plain piece of paper following the Submission Format and Contest Requirements in the Rules and mail to:
"Sutter Home Build A Better Burger® Recipe Contest"
c/o One Line Sports Agency
P.O. Box 610505
Bayside, NY 11361-0505
Group and mechanically reproduced entries, including photocopies, are not eligible. All mail-in entries must be postmarked by July 31, 2017. Each entry must be mailed separately.
To enter you will need to create an original burger recipe to pair with a Sutter Home wine.
The Contest will be conducted in three sequential phases: 1. Recipe Entry Judging, 2. Regional Semi-Finalist Cook-Offs and 3. National Finalist Cook-Off. As part of the entry process, each entrant will be assigned to the region associated with his or her state of residence.
One (1) Grand-Prize: $25,000 awarded in the form of a check.
Five (5) National Finalist Prizes: two nights double occupancy hotel accommodations in St. Helena, CA (Check-In: Wednesday, October, 4, 2017; Check- Out: Friday, October 6, 2017), economy-class airfare for two between Finalist's home and a Bay Area Airport, entry for two to a welcome reception and dinner on Wednesday, October 4, 2017, breakfast for two daily, reimbursement of rental car for duration of two night stay in St. Helena, CA, ground transportation for two to and from all sponsored activities and $200 pre-paid debit card to be used for dinner on Thursday, October 5, 2017. ARV: $3,500
Twenty (20) Semi-Finalist Prizes: two professional baseball game tickets in Regional Semi-Finalist Cook-Off city in accordance with the dates listed in the Regional Semi-Finalist Cook-Off chart in the rules, and one $200 pre-paid debit card for required burger ingredients. If Semi-Finalist lives within 300 miles from Regional Semi-Finalist Cook-Off city, Semi-Finalist will be required to provide their own ground transportation to and from the event and will receive one $200 pre-paid debit card for fuel, toll expenses and/or any other transportation costs. If Semi-Finalist lives more than 300 miles from Regional Semi-Finalist Cook-Off city, Semi-Finalist will receive economy-class airfare for two between Semi-Finalist's home and the Regional Semi-Finalist Cook-Off city and night hotel accommodations (1 room, double occupancy) in Regional Semi-Finalist Cook-Off city. ARV: $1,000