Enter for a chance to win one bag of 1,000 tabs of ENERGYbits Worth $120 from @PaleoEpic Boston based ENERGYbits sells tiny algae tablets. Algae is not only the original paleo food, it was the first plant life on earth 3 billion years ago! A handful of their ENERGYbits spirulina tablets satisfy your hunger and fire up your physical and mental energy within minutes. Their RECOVERGYbits chlorella tablets boost your immune system, remove toxins and help you recover from sports or stress. All this from a tiny tablet that has just ingredient and one calorie but NO sugar, caffeine, chemicals or gluten. Plant-based, vegan, paleo and keto too.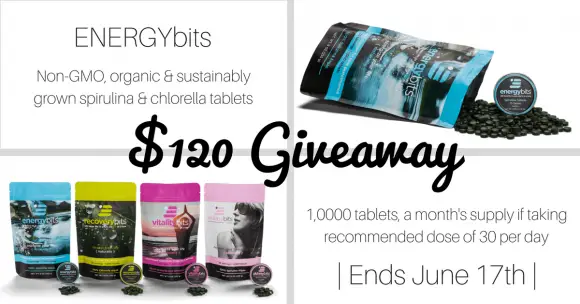 Official Rules: Open to United States; 18 years of age and older. Begins on May 17, 2017 and ends on June 17, 2017. Drawing Date: drawing held on or about June 18, 2017. Entry Limit: one entry per person + bonus entries for completing various activities and sharing
Click Here to Enter | Official Rules
Prize Details: one winner will receive a bag of 1,000 tabs of ENERGYbits (a months supply if you take the recommended amount of 30 tabs/day). Retail value $120.00.