Vote on your favorite #SBRslowandlow recipes to enter Sweet Baby Ray's Sweepstakes for a chance to WIN a six-pack of Sweet Baby Ray's sauces! The brackets are set, but you can still submit your best recipe for even more chances to win!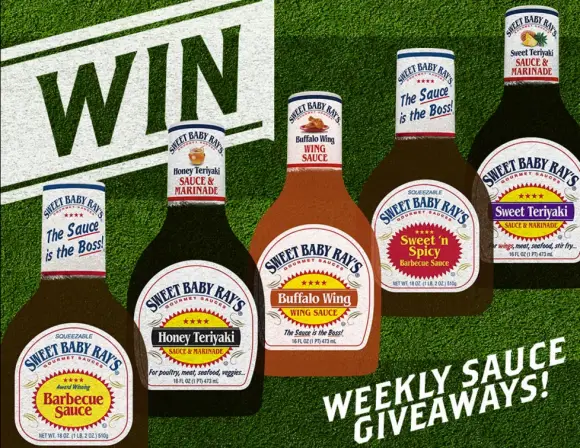 Eligibility: US, DC, 18 and older
Entry Dates: January 5, 2017 and ends 11:59:59 PM ET on February 4, 2017
Winner Determination: Weekly Sweet Baby Ray's 'Slow and Low' Prize Giveaway "Winners" will be selected each week of the contest period at random from Eligible Participants by Sponsor. All winners will be notified via email and Sponsor will request to gather all contact information to distribute prizes to winners. Sweet Baby Ray's 'Slow and Low' Recipe Contest "Winners" are identified if the user submitted recipe advances to the next round of the competition. All winners will be notified via email by the Sponsor and prizing will be distributed at the end of the contest.
Click Here to Enter | Official Rules
To vote you will need to share your selection on Facebook at the time of entry (link above).
Entry Limit: one entry per person through the entry form, then share your best slow cooker recipe for 5 additional entries. Select existing recipes to share and gain more bonus entries.
Weekly Prize Giveaway Gifts: Mixed Pack of Sweet Baby Ray's Sauce ARV: $15.00
Sweet Baby "Slow and Low" Recipe Contest Gifts
Quaterfinals: Mixed Case of Sweet Baby Ray's Sauce Prize ARV:  $15.00
Semifinals: America's Test Kitchen Slow Cooker Revolution Book, and Sweet Baby Ray's Original BBQ Sauce 80oz. ARV: $30.00
Finals: Multi-pot buffet slow cooker ARV:  $45.00
Grand Champion: Slow Cooker with custom engraving of Winner's name and 'Grand Champion, Sweet Baby Ray's Slow and Low Giveaway 2017. ARV $150.00