Submit your ideas for a potential flavor of Lay's potato Chips for your chance to win $10,000, $50,000 or even 1 million dollars in cash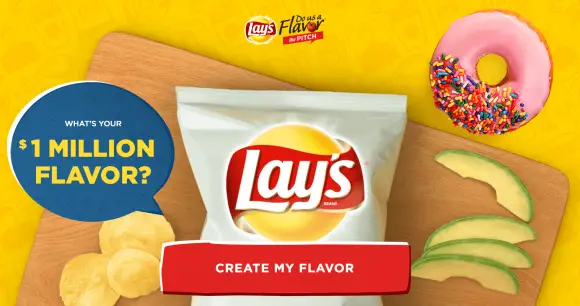 Eligibility: US, DC, 18 and older
Contest Entry Dates: January 10, 2017 and ends on March 19, 2017 at 11:59 pm CT
Voting Period: July 24, 2017 and ends on October 8, 2017 at 11:59 pm CT
Contest Judging Criteria: 30% Potential for delicious flavor for lay's potato chips; 30% Simple, straightforward and fun; 40% Original, creative and shareable
Website Entry Form | Official Rules
Contest Entry: submit your ideas for a potential flavor of Lay's potato Chips
The proposed flavor name
Up to 3 ingredients
Your flavor inspiration or description
Your contact information
Your flavor name must not be the same or substantially similar to an existing flavor of Lay's potato chops, nor the same or substantially similar to prior Do Us A Flavor finalists.
You may (but are not required to) use the tools on Lay's Web Site to create a custom packaging image to visually represent your entry. The packaging images on the Lay's Web Site (and the customization choices, if any) will not be judged and will not impact the outcome of the Contest.
CONTEST ENTRIES WILL BE JUDGED
Check back on or after July 24, 2017 for additional Voting information
Entry Limit: you may enter as many different entries as you like, as long as each entry is substantially different from previous entries
One (1) Grand Prize: $1,000,000 awarded in the form of a check or wire transfer
Two (2) Finalist Prizes: $50,000 awarded in the form of a check or wire transfer
Seven (7) Semi-Finalist Prizes: $10,000 awarded in the form of a check or wire transfer