Win Cash and Prizes from Instagram! Most of us have an Instagram account to share photos and look at other people's photos and quick videos. You may also know that you can win cash and prizes from Instagram too. Brands, bloggers, influencers and YouTubers all use Instagram to promote their content and get people to follow them. They also use giveaways to get you to follow and share their content. You can win some great prizes on Instagram. I won a $1,000 Visa gift card from Instagram.
If you aren't using Instagram on a regular basis to enter giveaways you may want to start. Here are some Instagram basics plus a few new features that have just been added. You may have to update the Instagram app to see them or wait until they are available for your account.
Instagram is owned by Facebook so you can do a lot of the same things on Instagram that you can do on Facebook and you can also share Instagram images to Facebook and Twitter.
How to Like an Instagram Image or Video
Double-tap on an image or video or press the heart button icon under the image or video.
New Feature: You can now Like someone's comment on Instagram. Just tap on the image and then look through the comments. You will now see a heart next to the comment. Tap on that and it is the same as adding a Like on Facebook.
How to Leave a Comment on an Instagram Image or Video
Tap the comment icon and a comment box will appear so you can write your message. Type your message and press Post.
New Feature: You can now leave a reply comment on a comment someone left on an image or video. Tap the Comment icon, find the comment you want to reply to and tap Reply. That person's Instagram user name will appear in the comment box and now you can type our message and press Post.
What? You don't follow the Goats of Anarchy? They are my favorite!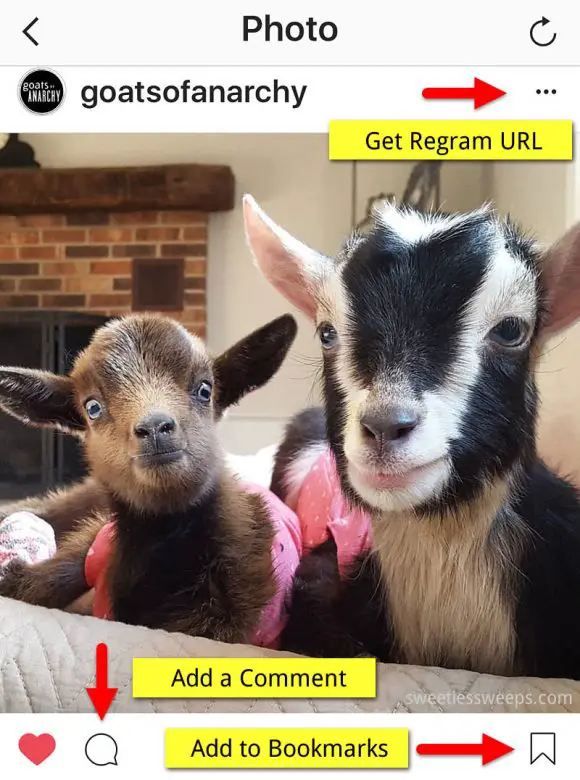 How to Regram an Instagram Image or Video
Many times you will be asked to "regram" or "repost" an image or video to your own Instagram feed to enter a giveaway or sweepstakes. The easiest way to regram an image or video is to download and install the Repost app. This is the app I use to regram images. If you have the paid version you can remove the person's name from the image but if you have the free version of the Repost app you can't remove it.
Once you have the app installed, find the image you want to regram, tap the 3 dots at the top right of the image, and then tap "Copy Share URL". Switch to the Repost app and you will see the image appear. Tap the image and then tap Repost. Select "Copy to Instagram" from the list of options and Instagram will load with the image. Tap Next and then write your description. If you are asked to copy the original description exactly as it was shown, just press and hold your finger in the text box and then tap Paste. The Repost app brings over all of the original text. Once you have your description added, tap OK at the top and then tap Share.
Another way to regram an image is to take a screenshot of that image and add it as you would any image, cropping out everything but the image. You cannot save a video to regram without using an app. To take a screenshot of an image, while viewing the image press the HOME and ON/OFF buttons at the same time. You will hear the camera "click" and the screen is now saved as an image in your photos.
How to Tag Someone in an Instagram Image
If you are asked to tag someone in an image you will need to know their user name or follow them on Instagram so their name appears when you go to tag them.
After you have your photo ready to share and you have written your description (caption), tap the "Tag People" option and when the image pops up, tap on the image. Then start typing the person's name or user name and once it appears tap on it to select their name. Then tap Done to go back to the main page. Tap Share to complete the process
Note: if you aren't following them their name will not come up so make sure you follow them before trying this.
Bookmark an Image or Video for Future Reference
New Feature: This is a brand new Instagram feature. Now you can make a "bookmark" list of images and videos you want to save and refer to in the future. This is a great feature because you can save images and videos from giveaways you entered in case you need to refer back to them.
How to Bookmark an Instagram Image or Video: When you find an image or video you want to save, look for the bookmark icon under it. Tap the bookmark icon and that image or video will be saved to your bookmark list.
How to Access Your Instagram Bookmarks: To access your bookmark list, tap your user icon at the bottom right and look for that same bookmark icon. Tap on it and this is where you will find all of the image and videos you saved.
This is an example from my personal Instagram account @ctlifestyles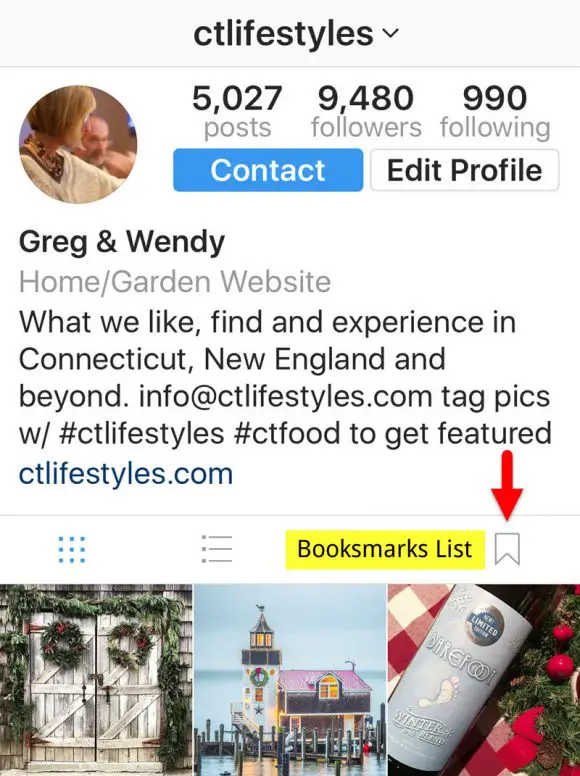 How to Share an Instagram Image on Facebook
You need to add the image or video to Instagram first before you an share it. You share it just before you post it live to Instagram.
Tap the button in the center at the bottom to add a new photo. Take a photo or find one in your phone or tablet's photo gallery. Add it and tap Next. Add your description (also called Caption) and then tap the Facebook and/or Twitter toggle buttons to enable them. When you tap Share the image will go out live on Instagram and also be sent to Facebook and/or Twitter. You can also send the image to Tumblr, Flickr, and Swarm if you have those accounts.
Note: You will have to hook in each of those social accounts before you send the photo. You setup these accounts under your Instagram Settings page. Before you send a photo, tap your user icon at the bottom right, tap the gear icon at the top right, tap Linked Accounts and set attach each social account you want to use to share to (Facebook, Twitter, etc)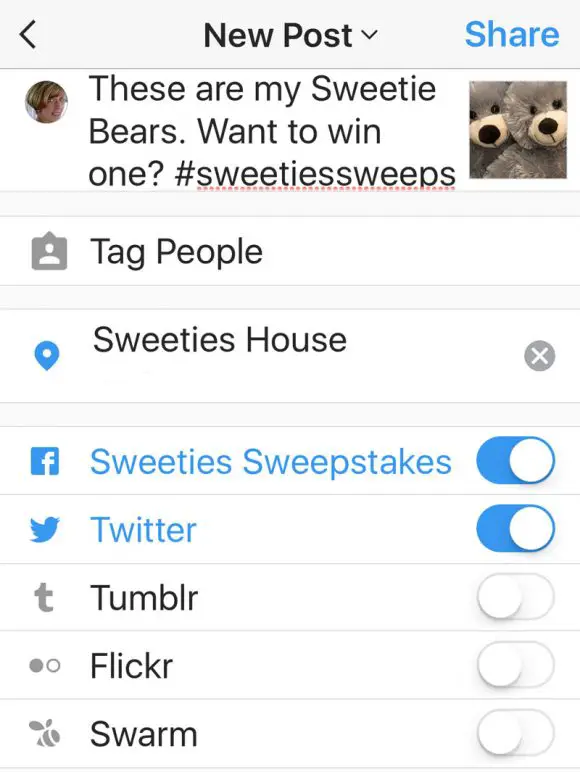 Instagram Live Stories
Instagram also introduced Instastories – similar to snaps on Snapchat and also now Live Instagram videos just like you see on Facebook.
To find someone who is Live on Instagram, open Instagram, tap the home button at the bottom left and look at the top of the page. You will see round icons that show the accounts of people who are either hosting a Live video or created photos and videos from the last 24 hours that will disappear after 24 hours. Brands will most likely start hosting Live Instagram videos to run parties, similar to parties seen in Facebook Live videos.