I just added two new ways for you to see Quick Ending sweepstakes on SweetiesSweeps.com.
LOOK UP at the menus at the top of the screen and you will see ENDING SOON. Hover your mouse on that menu or tap it if you are using your tablet. You will see dates for sweepstakes that end within the next 7 days on that menu PLUS you will also see QUICK ENDING sweepstakes.
Click or tap on any of the dates to see the full list of sweepstakes. As one date expires a new date will be added to the end of the list so there will always be one week of sweepstakes listing there.
What are Quick Ending Sweepstakes?
I categorize Quick Ending sweepstakes as ones that are only open for approximately 2 weeks (give or take a few days). Short-running sweepstakes have a better chance for you to win.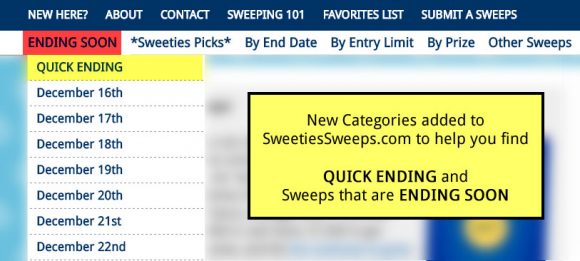 If you are viewing SweetiesSweeps.com on your Mobile phone tap the menu at the top left and look for the ENDING SOON menu. Then tap the white ARROW to show the dates and quick ending category. Clicking on the ENDING SOON words will not show you those sweepstakes. You must click the white arrow and then click on each date.