Enter Angie's Boomchickapop Game On Bring the BOOM Sweepstakes to win awesome Game Day prizes like sports gear, game day party supplies and more!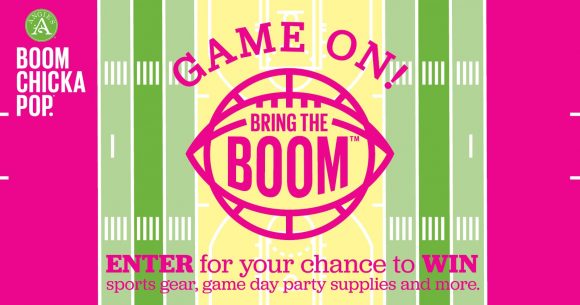 Eligibility: US, DC, 18/age of majority and older
Entry Dates: December 20, 2016 and ends at 11:59:59 p.m. CT on May 15, 2017
Random Drawing: on or about January 24, March 23, and May 23, 2017
Website Entry Form | Facebook Entry Form | Official Rules
Mail-in Entry: To receive one entry into the corresponding drawing, hand print your complete name, mailing address, email address, telephone number, and birth date on a 3″ x 5″ card and mail in a first- class stamped envelope to:
Game On! Bring The Boom™ Sweepstakes
P.O.Box 650009, Dept. 1017-708
El Paso, TX 88565-0009
Mail-in entries must be postmarked and received by the dates listed below:
Drawing #1 Postmarked by 1/13/17 and received by 1/20/17
Drawing #2 Postmarked by 3/14/17 and received by 3/21/17
Drawing #3 Postmarked by 5/15/17 and received by 5/22/17
Entry Limit: one entry per person per day. Sharing will not give you bonus entries.
Three (3) First Prizes (one per drawing): 55" television, one sound system, one Angie's Boomchickapop branded pillow, one Angie's Boomchickapop branded helmet snack bowl, one big bag filled with 25 Angie's BOOMCHICKAPOP® Sweet and Salty Popcorn 1.0 oz bags, 25 Angie'sBOOMCHICKAPOP® Sea Salt Popcorn 0.6 oz bags, and one bag each of Angie's BOOMCHICKAPOP® flavors: Sea Salt, Sweet & Salty, Lightly Sweet and White Cheddar. ARV: $1,192.01
Fifteen (15) Second Prizes (5 per drawing): Tailgate set consisting of two Angie's Boomchickapop branded tailgate chairs, one Angie's Boomchickapop branded cooler with speakers, one Angie's Boomchickapop branded helmet snack bowl, and one bag each of Angie's BOOMCHICKAPOP® flavors: Sea Salt, Sweet & Salty, Lightly Sweet and White Cheddar. ARV: $495.19
Twenty-seven (27) (9 per drawing): One Boomchickapop branded indoor single shootout basketball game and two bags of Angie's BOOMCHICKAPOP® Sweet & Salty Kettle Corn. ARV: $251.22