Share a photo of your last adventure on Twitter or Instagram for your chance to win one of the daily trips American Eagle is giving in the AEO #WeAllCan Adventure Together Instant Win Game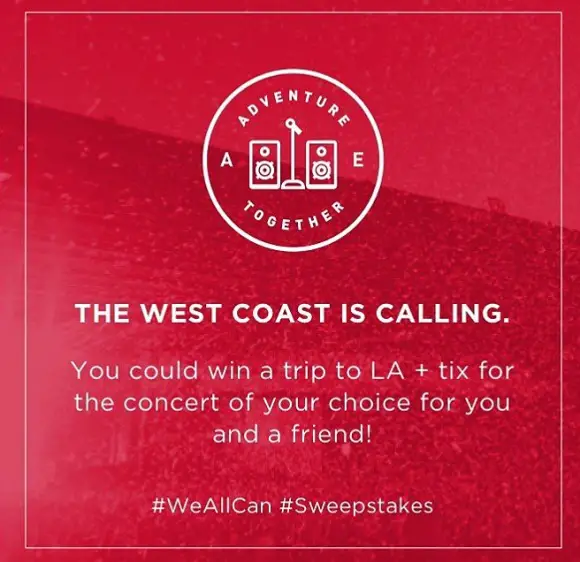 Instant Win Game Rating: Okay (Official Rules)
Eligibility: US, DC, 18 and older
Entry Dates: December 8, 2016 and ends on December 19, 2016 at 11:59 p.m. ET
How To Enter on Twitter and Instagram
1. Tweet or post a photo of your last adventure and include the hashtags #WeAllCan and #Sweepstakes
ReTweets will not be accepted. Your Submission must be your original work.
AEO Twitter OR AmericanEagle Instagram will comment on your tweet/post with a unique code within 24 hours. Once you obtain your code visit share.ae.com.
2. Follow the links and instructions to enter the code to receive one Instant Win Game play for that day.
Entry Limit: one entry per person per day
Daily Prizes:
December 8: A trip for two to Los Angeles, CA. Trip package includes round trip, coach-class air transportation for two from a major airport near winner's home to Los Angeles, CA; four nights accommodations (single room, double occupancy); ground transportation to and from destination airport and hotel; a $600 StubHub gift card; and travel agent services. ARV: $4,800
December 9: A trip for two to St. Croix. Trip package includes round trip, coach-class air transportation for two from a major airport near winner's home to St. Croix; four nights accommodations (single room, double occupancy); ground transportation to and from destination airport and hotel; $1,500 spending money; and travel agent services ARV: $6,800
December 10: A North Cascade Mountain OR Mount Rainer Mountaineering Outward Bound Package, winner's choice, for two. Trip package includes round trip, coach-class air transportation for two from a major airport near winner's home to Seattle, WA; a seven day North Cascade Mountain OR Mount Rainer Mountaineering Outward Bound Package, winner's choice, for two including transportation; $1,500 spending money; and travel agent services ARV: $7,400
December 11: Two Vespa mopeds ARV: $9,200
December 12: A trip for two to Nashville, TN. Trip package includes round trip, coach-class air 1 $4,800 12/12/16 transportation for two from a major airport near winner's home to Nashville, TN; four nights accommodations at a hotel (single room, double occupancy); ground transportation to and from destination airport and hotel; a $600 StubHub gift card; and travel agent services. ARV: $4,800
December 13: A trip for two to San Francisco, CA. Trip package includes round trip, coach-class air transportation for two from a major airport near winner's home to San Francisco, CA; five nights' accommodations at Stinson Beach, California-Chaming Luxury Gazebo Glamping Hut; a $600 allowance for full-size rental car for length of stay; $1,500 spending. ARV: $6,100
December 14: A Southwest Canyon- Cedar Mesa Outward Bound Package for two. Trip package includes round trip, coach-class air transportation for two (2) from a major airport near winner's home to Salt Lake City, UT; a seven day Southwest Canyon- Cedar Mesa Outward Bound Package for two including transportation; $1,500 spending money; and travel agent services. ARV: $6,700
December 15: A trip for two to New York City, NY. Trip package includes round trip, coach-class air transportation for two from a major airport near winner's home to New York City, NY; four nights accommodations (single room, double occupancy); ground transportation to and from destination airport and hotel; a $600 StubHub gift card; and travel agent services. ARV: $4,800
December 16: Tech package for two which includes two Apple watches, two smart TV's, two MacBook Airs, and two Samsung VR gears. ARV: $4,100
December 17: $6,000 check that can be used to pay for one year's worth of college textbooks for two ARV: $6,000
December 18: Two custom neon signs ARV: $4,000
December 19: A trip for two to Europe for a backpacking trip across three countries. Trip package includes round trip, coach-class air transportation for two from a major airport near winner's home to winner's chosen arrival city; one night accommodation at hotel in arrival city (single room, double occupancy); one night accommodation at hotel in departure city (single room, double occupancy); a first class Eurorail pass for two; a $2,500 hotel accommodation allowance; a $1,000 activity allowance; and travel agent services. ARV: $10,300