The holidays are here and you may be short of cash so I have compiled 5 easy ways to earn extra cash this holiday season. Do you have any tips for earning extra cash? My favorite, of course, is entering sweepstakes to help you "win what you can't afford" but as we all know, you can't always count on winning a prize and when you do it's isn't often a cash prize.
You aren't going to get rich with any of these "quick cash" options but it will help you gain a little extra cash to put in your coffers to help buy a few gifts
1. Watch Movie Previews & TV Clips
Join Swagbucks and spend a little bit of time each day watching videos on the Swagbucks Video Channel to earn extra cash and gift cards. Video clips on Swagbucks are short and each time you watch a Swagbucks video you earn Swagbucks. The Swagbucks video selection includes content from dozens of partners, like Hulu, Reuters, and the Food Network. Redeem your points earned for gift cards from over 140 brands including Amazon, Walmart, and PayPal.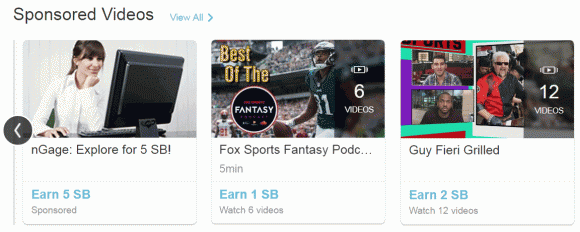 When you watch a Swagbucks video you earn Swagbucks or SB. The longer the video the more Swagbucks you earn. Build up your Swagbucks and cash them in for gift cards. You can get regular gift cards or cash gift cards.
100 SB = $1.00

Get a $5 Bonus when you join!

Swagbucks is easy and something you can do right now to earn extra gift cards and cash. Login daily and watch several video clips, complete a survey and enter Swagstakes. SB build up very fast. I have gotten many free gift cards through Swagbucks. The more time you put into it, the more SB you will earn and the more Free gift cards you will get.
On Swagbucks you can also do these activities to earn SB:
Complete Surveys: Participate in paid surveys to earn SB. Most will give you 75 SB
Enter Giveaways: enter sweepstakes and Swagbucks-only "Swagstakes"
Take Daily Polls: Earn rewards and free stuff by searching and shopping online
Swag Button: Add the Chrome Swagbutton to your toolbar to earn 50 SB
Earn from 1 to 100 SB by doing these activities. Login in daily

2. Cash Back for Shopping Online
Swagbucks is one way to earn cash back for purchase and Ebates is another site that offers cash back. Since you are most likely shopping online to buy presents, use Ebates to get cash back on your purchases. You are paid through a check or direct deposit to your banking account or Paypal.
Think of Ebates as a local mall with over 1,200 different stores but with one huge difference. Online stores pay Ebates a commission on every sale and they split this amount with you, the consumer. Each store pays a different commission so users will save different amounts at different stores; users just have to look at the percentage next to the store name to see how much they will save.
Shop through your favorite stores
Earn cash back on your purchases
Receive your Big Fat Check
Up to 40% Cash back on almost everthing you buy
2,000+ stores
10,000+ coupons to stack on your savings when shopping
You get $10.00 Free Bonus Cash just for Signing up. Install the eBates Chrome button to make it easier to remember to use when shopping.
3. Take Surveys to Earn Cash
Here are some legitimate companies that will offer you $2, $5, $10 or $15 (or gift cards) to complete a survey. You must fill out your profile completely and if there is a survey to complete, you will get an email letting you know it is available. What do these surveys do for that company so that they are willing to pay you for completing them? Surveys help companies decide what products and services to sell, which helps them make money. So, in fact, you are helping a business grow by sharing your likes, dislikes, experiences, and product usage.
4. Sell Your Junk Mail for Cash
Do you get a lot of junk mail in your email Inbox or your physical mailbox? If you are like me you get too much and when it's in paper form you feel like it is just such a waste. The Small Business Knowledge Center will pay you for junk mail. And, if you are self-employed you can earn bonus points for what you send to them. According to SBKC you earn points that you turn into Visa debit cards.
While the SBKC is not an accredited business with the Better Business Bureau, it still has an A+ rating so you can be confident that it is legitimate.
Sign up to become an SBKC Consumer Panelist and you will be asked to send them your email and junk mail related to certain things like insurance, mortgages, finances, credit cards, and more. Yo must be 19 years of age to participate and you can only provide them with email or mail that was sent directly to you.
Earn 2,000 points and you will get a gift card good at over 200 retailers. Around the 15th of each month you will receive an e-newsletter with your point balance and instructions for redeeming points
"Frequent participants can earn as much as $20 in points every 6 to 10 weeks! Business owners and those who are self-employed can earn rewards even faster….Participants may only send mail and email materials that were originally sent to them and from members of their household with those members' permission."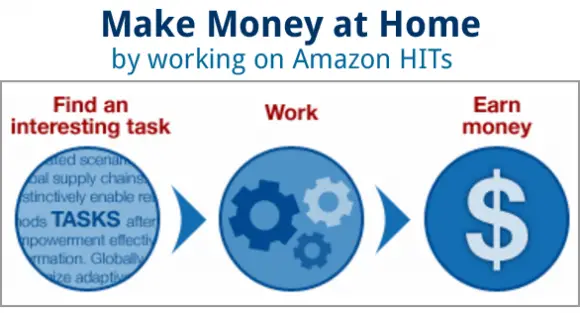 5. Work for Amazon's Mechanical Turk from Home
Most of us spend way too much time on Amazon, I know I do. And, if you have an Amazon Prime account you are there way more than most because you get free shipping, free books, free music, and free TV and movies.
Why not work for Amazon AT HOME!
Amazon's Mechanical Turk is a marketplace for work that requires human intelligence. The Mechanical Turk service gives businesses access to a diverse, on-demand, scalable workforce and gives Workers a selection of thousands of tasks to complete whenever it's convenient.
Step 1: Find work Search or browse through the Human Intelligence Tasks (HITs) and click on the one that interests you.
Step 2: Work on your HIT Accept the HIT and follow the instructions. When you're done, submit your work.
Step 3: Get paid for your work After the requester approves your work, money is deposited into your Amazon Payments account.
Each HIT pays from 1 cent and to $10.00 each. The tasks take from 10 minutes to an hour to complete. The more you do the higher your ranking and the better chances you have to get the higher paying Premium HITs.
How You Get Paid: You can transfer your earnings to your Amazon Payments account or to an Amazon.com gift card. You can disburse to your bank account as soon as your earnings are transferred to your Amazon Payments account.
Example of Amazon Mechanical Turk Work
These are just examples and not current HITs available
Select the correct spelling for these search terms
Is this website suitable for a general audience?
Find the item number for the product in this image
Rate the search results for these keywords
Are these two products the same?
Choose the appropriate category for products
Categorize the tone of this article
Translate a paragraph from English to French
This article contains affiliate links that are no cost to you to use and help us provide income to keep this site free.