Sears is giving away $1,000 in gift cards daily when you play the Wheel of Fortune Holiday Puzzler App game.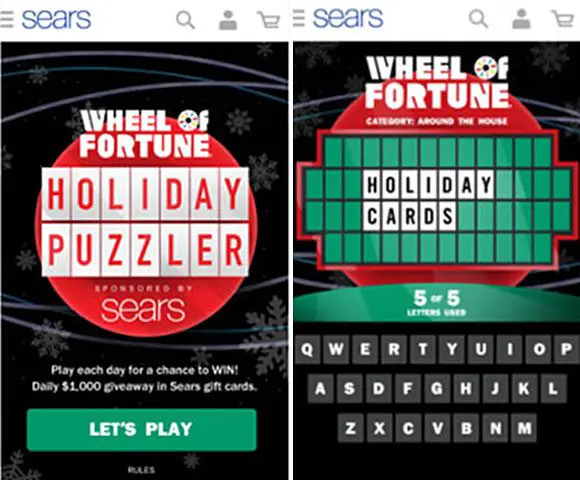 Sweeps Rating: Okay (Rules are on the App)
Eligibility: US, DC, 18 and older
Entry Dates: October 23, 2016 and ends on December 9, 2016 at 11:59 pm CT
Random Drawing: on or about the next business day
App Entry:
Download the Sears mobile app HERE
Scroll down to find the Wheel Of Fortune Holiday Puzzler Game, Tap your screen to play
You will receive five turns to guess a letter (consonant or vowel) contained within the puzzle solution. At the end of five turns, you will have the opportunity to solve the puzzle. If you get the solution correct you will receive five entries into the sweepstakes.
You only get one entry if you don't answer it correctly.
Daily Sears Holiday Puzzler Answers:
You get 5 points for adding the correct answers each day
Follow me on Snapchat and watch my snaps and/or Instagram to see the daily answer too
October 28: paper snowflakes
October 29: hot cocoa
October 30: apple cinnamon candle
October 31: pecan pie
November 1: reindeer
November 2: ball, plow, angel, mobile
November 3: chimney
November 4: cornucopia
November 5: mulled apple cider
November 6: Frosty the Snowman
November 7: (across) skirt, ornaments, (down) star, bows
November 8: pie pans
November 9: The Nightmare Before Christmas
November 10: Wrapping Paper
November 11: Polar Bear
November 12: snowblower
November 13: office holiday party
November 14: holiday lights
November 15: candy canes
November 16: snow boots
November 17: the north pole
November 18: shoveling the driveway
November 19: stocking stuffers
November 20: Winter Wonderland
November 21: warm woolen mittens
November 22: ugly holiday sweater party
November 23: The First Noel the Angel Did Say
November 24: turkey baster
November 25: Black Friday Sale
November 26: Trimming the Tree
November 27: Spinning the Dreidel
November 28: Watching Wheel Of Fortune
November 29: Secret Santa
November 30: Shopping at Sears
December 1: Cross-Country Skiing
December 2: Mrs. Claus
December 3: whipped cream
December 4: elves
December 5: last minute shopping
December 6: gift tags
December 7: Holiday Wreath
December 8: The Griswolds
December 9: Christmas Vacation
Entry Limit: one game per person per day regardless of entry method. Non-winning entries do NOT rollover for subsequent drawings.
Four Hundred Eighty (480) Prizes (10 per day): $100 Sears Gift Card. (allow two weeks for email delivery of prizes)