Do you have a Mini Chef at home? Submit a video of you and your child preparing one of the following avocado breakfast recipes and you could win $1,000 in cash. There will be 9 winners, one per month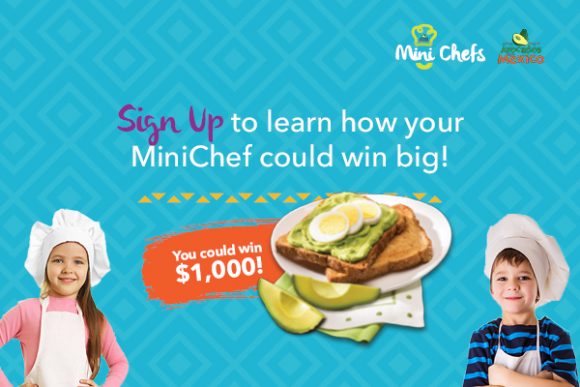 Eligibility: US, DC, 19 years of age or older, and who are the parent or legal guardian of a child between the ages of 4 and 12
Entry Dates: October 1, 2016 and ends at 11:59 am PT on June 30, 2017.
Winner Determination: The Entry receiving the most votes for a Public Voting Period will be deemed the prize winner for that Monthly Submission Period subject to verification of entrant's eligibility.
Click Here to Enter | Official Rules
How to Enter:
Select one recipe that includes Hass avocado and one "talking points" sheet. You can also make your own recipe. Then, record a video of your preparation of the avocado recipe with at least one Eligible Child (and no more than three Eligible Children), and use at least two of the talking points from the sheet. Your Entry will be entered into the Monthly Submission Period in which it was received. Entry may not exceed ten minutes in length and must be in English. Please Note:
You may not include any music in your Entry. If your Entry includes music, it won't be accepted. Avocados From Mexico may notify you and you can submit a new entry that does not include music.
Entrant must appear in the Entry and it must be submitted by a legal guardian of the Eligible Child/Children who is over 18 years old. Only the entrant or the entrant and the Eligible Child/Children of the Entrant may appear in the
Entry.
WINNERS WILL BE DETERMINED BY PUBLIC VOTING
Entry Limit: one entry per household per month, although each entry may include up to three Eligible Children. Entries are valid only for the Monthly Submission Period during which they are received and do not carry over to subsequent Monthly Submission Period(s). One vote per person/email address/IP address per day during the Voting Period.
Nine (9) Prizes (one per month): a $1,000 VISA gift card