Click Here for your chance to win a $5,000 Smart Home Upgrade from @CFAPROMO #OurLifeUpgrade Share how your home's lights make a family moment better for your chance to win.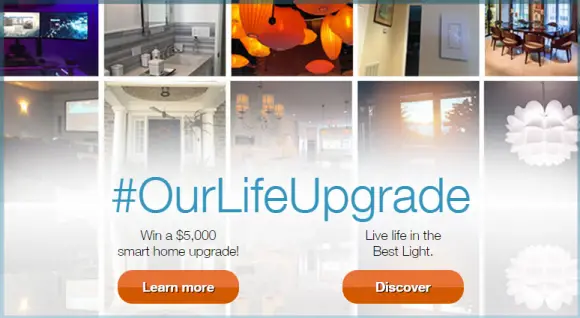 Eligibility: United States; District of Columbia, 21 years of age and older
Entry Dates: September 15, 2016 and ends on December 15, 2016 at 12:00 pm ET
Judging Criteria: Entries will be judged based on the following criteria): creativity, quality, and originality, as determined by the Judges in their sole discretion. Judges: The Contest shall be judged by a panel of three judges.
Click Here to Enter | Official Rules
Submit a photograph or video (at least six (6) seconds and no more than sixty (60) seconds in length), and include a short essay or caption (50 words or less, or for Tweets, 140 characters or less) showing or telling how a "smart home" would give you or your family a life upgrade, using any one or any combination of the hashtags #OurLifeUpgrade, #Lutron, #OLU, on Twitter, Vine or Instagram, and following the prompts to the Lutron #OurLifeUpgrade Contest landing page.
Entry Limit: five entries per person.
Five (5) Grand Prizes: each Grand Prize consists of winner's choice from a selection of Caseta Wireless smart lighting controls, Serena shades found at serenashades.com, and/or "Works With Caseta" products (up to a total list price of $4,000.00). The final upgraded home prize package must yield a system that includes Caseta Wireless smart lighting controls, with at least $2,000.00 list price of Serena shades, and "Works With Caseta" products for temperature control, voice control, and audio/sound control; a check for $1,000.00 which can be used by Grand Prize Winner to help defray taxes, installation costs, or for any other purpose. Actual tax liability or cost of installation may exceed $1,000.00. Sponsor shall not be liable for installation costs, taxes, or other costs in excess of $1,000.00. Available inventory and prices of individual smart lighting controls or shades during the Entry Period are illustrative; final selection shall be determined at the time of award, based on then-current models and prices. Except as provided below, Grand Prize does not include cost of installation