It's been a long time coming but Sweeties Sweeps now has 50,000 Fanatical Sweepers following along to see what new sweepstakes can be entered. If you love to enter sweepstakes then you too should follow Sweeties Sweeps on Facebook. We not only share sweepstakes that are listed on SweetiesSweeps.com but we also share quick ending sweeps, keywords and game codes, and giveaways that we never listed on SweetiesSweeps.com. We also like to share winner stories so you can be inspired to keep entering when those dry spells with no prizes inevitably come around.
To celebrate our milestone, I'm giving away some fun prizes!
Five Winners will each receive a one-year membership to the Secret site. If you are already a member and you win, your membership will get extended. If you are not already a member, why not join today and if you win we will either refund your money or extend your membership.
Are you a part of my Snapchat Family?
One Sweeties Sweeps Snapchat Friend will win the beautiful Brighton Twinkle post earrings shown below. You will love these earrings for everyday wear – perfect size and sparkle – with a blue Swarovski crystal in the center.
Once you follow me on Snapchat, make sure to leave your Snapchat user name in the Rafflecopter widget or in a comment below so you get a chance to win.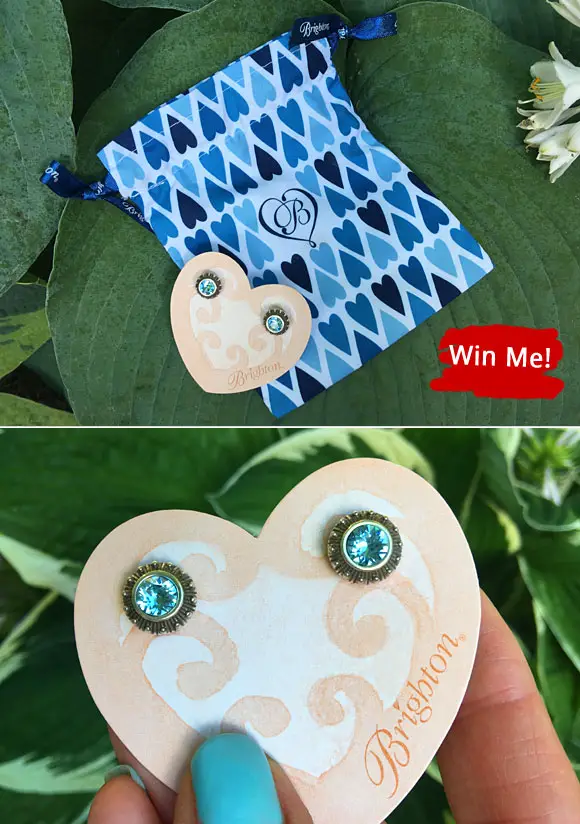 You say you don't know how to use Snapchat? No problem. I wrote a book that will walk you through the whole process from setting up your account, adding friends, viewing snaps, taking and sending snaps, viewing private messages and getting notified if you win. Snapchat is here to stay so why not get on board and learn how to use it.

Once you get my book or watch the instructional videos on my YouTube channel, follow me on Snapchat to see daily sweeps Codes, text sweeps, get reminders about hot sweeps and exclusive content and giveaways exclusively for my Snapchat friends. Send me your snaps and ask me your questions about Snapchat, Facebook, Instagram, Twitter, or Pinterest, or any other sweepstakes related questions and I will answer your questions on Snapchat.

Watch my video to learn how to use Snapchat. Grab your smartphone or tablet and follow along.

And make sure to subscribe to my new YouTube channel to learn even more. More tutorials will be coming on Twitter, Instagram, Pinterest and Facebook tips and tricks.

How to Follow Sweeties Sweeps on Snapchat

It's easy to follow me on Snapchat.

Open Snapchat, swipe down and tap Add Friends. tap Add by Username and type sweetiessweeps and tap Add Friend. OR
Open Snapchat, position your phone over the snapcode tap the screen until Snapchat recognizes the code and you can tap Add. If that doesn't work you can tap the camera button to take a photo, add friend and then tap the X at the top left to cancel the photo so you don't save it.

How to View my Snaps

Once you follow me just open Snapchat, swipe to the left and look for my name, tap on it and my snaps from the last 24 hours will load. Each snap (a photo or video) lasts from 1 to 10 seconds so they go by quickly but you can replay them over and over until they expire and go away. Get my book and learn how to take a screenshot so you can save important snaps.

Note: The Kindle version of my book will not work on text-only Kindles but will work on the free Kindle app for your smartphone or tablet and also on Kindle tablet-style devices. If you have an issue getting the Kindle version of my book to work, email me and I will send you a PDF copy you can use on your computer or import into your text-only Kindle.
Wait until the page loads completely to see the Rafflecopter giveaway widget. If the widget does not appear you can leave a comment below to get your first entry. To get bonus entries follow me on Twitter, Facebook, Snapchat and leave a comment for each account you follow along with your user name for each account.
Giveaway Rules: NO PURCHASE NECESSARY. Open to all United States residents, 18 and older. This Giveaway begins on June 20, 2016 and ends on June 30, 2016 at 11:59 pm ET. Winners will be randomly chosen on or about July 2, 2016 and will be contacted by email or Snapchat.