Click Here to Enter for your chance to win one of the 23 16GB Apple iPad mini 2 with Wi-Fi from RightThisMinute iPad mini Sweepstakes. Plus, five winners of a 40-inch class or larger flat screen television.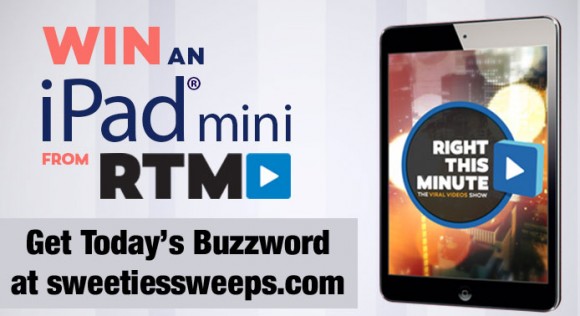 Sweepstakes Rating: Okay
Eligibility: US, DC, 18 and older
Entry Dates: April 25, 2016 and ends on May 25, 2016
Random Drawing: throughout the course of Sweepstakes.
Start Here to Enter | Official Rules

You must have a Facebook and/or Twitter account to enter the RightThisMinute iPad Giveaway.
RightThisMinute show hosts will reveal a buzzword during the RightThisMinute television show. To enter that weekday's drawing you will be required to enter the buzzword on an official Sweepstakes Entry Page. Those who submit the correct buzzword will be entered into that day's drawing. For each weekday drawing, Sweepstakes entry period opens at 5:00 a.m. PT and closes at 4:59 a.m. PT the following day.
RightThisMinute Daily Buzzwords:
April 25: HANDCUFF
April 26: DIRECTOR
April 27: SOLDIER
April 28: WINGMAN
April 29: OUTLAW
May 2: AGENT
May 3: FRIEND
May 4: ENEMY
May 5: LIBERTY
May 6: MARVEL
May 9: UNITED
May 10: NATION
May 11: SCARLET
May 12: IRON
May 13: PATRIOT
May 16: CIVIL
May 17: THRONE
May 18: VENOM
May 19: PANTHER
May 20: GIFTED
May 23: BEAST
May 24: RAVEN
May 25:JINX
Each week, being defined as Monday through the following Friday, show hosts will designate one day as a Bonus Day. On each Bonus day, one First-Place Prize and one Bonus Prize will be awarded. All valid entries submitted on the Bonus Day will qualify the entrant for a chance to win in that day's drawing.
Entry Limit: you may enter each weekday's drawing once through Facebook and once per Twitter per day, for a total of two entries per drawing. SHARING IS OPTIONAL AND WILL NOT GIVE YOU BONUS ENTRIES.
Twenty-three (23) First Prizes (one per weekday): 16GB Apple iPad mini 2 with Wi-Fi. Cellular plans, Apple care protection plan, and any additional services, accessories or features are NOT included. ARV $290
Five (5) Bonus Prizes (one per week): 40-inch class or larger flat screen television. ARV $350