Wheel Of Fortune #WOF is sending five lucky winners and their traveling companions on a 13-day, all-inclusive adventure through Italy, plus $1,500 in spending cash.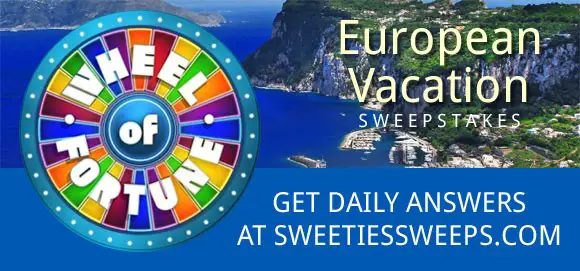 Sweepstakes Rating: Okay
Eligibility: US, DC, Canada (excluding Quebec), 18 and older
Entry Dates:begins at 3:00 p.m. PT on January 11, 2016 and ends at 2:59 p.m. PT on January 16, 2016
Random Drawing: on or about January 29, 2016
Website Entry Form | Official Rules
Each daily sweepstakes begins at 3:00 p.m. PT and ends at 2:59 p.m. PT the following calendar day.
Wheel of Fortune European Vacation Bonus Round Puzzle Solution
January 11: OFFICE PARK
January 12: HUGE YACHT
January 13: QUITE A HAUL
January 14: HOLIDAY WREATH
January 15: PAYING IT FORWARD
Entry Limit: one Online Entry and one Bonus Entry per person/email address per daily sweepstakes. Bonus Entry – If you are already a registered Wheel Watchers Club member, you will receive one additional entry into the respective daily sweepstakes by logging into the Website using your Wheel Watchers Club E-Mail address and password. If you are not a registered Wheel Watchers Club member, you can register for free. Non-winning Sweepstakes Entries will NOT be retained for the subsequent daily sweepstakes drawings. Entrants will receive one Online Entry into the Sweepstakes if they provide the correct European Vacation Bonus Round Puzzle Solution from the episode of the Show corresponding to that daily sweepstakes. Adios To Winter Bonus Round Puzzle must be correct for that designated episode of the Show to be eligible for the corresponding daily sweepstakes.
AMOE Bonus Entry: To receive a Bonus Entry without joining the Wheel Watchers Club you must legibly print your Date of Birth, First Name, Last Name, Home Address (no P.O. Boxes), City, State/Province, Zip/Postal Code, Phone Number (including area code) on a standard sized postcard (no larger than 5″ x 7″), enclose it in a postage-paid business size envelope (#10), and mail it to:
European Vacation Sweepstakes Bonus Entry – Daily Sweepstakes Date (specify which date you want to be entered)
P.O. Box 7719
Burbank, CA 91510
All information on the AMOE Bonus Entry must be completed in full. To be eligible for a particular daily sweepstakes, your AMOE Bonus Entry labeled with that particular daily sweepstakes day must be received no later than January 22, 2016. Limit one (1) AMOE Bonus Entry per mailing envelope and per person per daily sweepstakes.
Five (5) Grand Prizes (one per day): a trip for daily sweepstakes prize winner and one guest to Italy. This prize consists of: round-trip coach-class air transportation from a major airport gateway near daily sweepstakes prize winner's residence in the 50 states of the U.S. or D.C. or Canada to Rome, Italy; standard accommodations for two (2) nights (single room, double occupancy) in Stresa, two (2) nights in Maiori, two nights in Florence, three nights in Rome, and two (2) nights in Venice; up to eighteen (18) meals included; ground transportation between the above listed destinations; and $1,500 spending cash (awarded in the form of a check made out in winner's name). ARV: $13,598.00
One (1) Overall Prize: Overall Prize will only be awarded to one of the daily sweepstakes prize winners. One Wheel of Fortune Bathrobe; one Sherpa Blanket; one Sheldon Bobblehead; one Wheel of Fortune Baseball Cap; a Pat & Vanna Talking Key Chains (pair); one Wheel of Fortune aluminum water bottle; one Wheel of Fortune Acrylic Tumbler; one Wheel of Fortune Playing Cards Deck; one Wheel of Fortune Grocery Tote; one Wheel of Fortune Flashlight Key Ring; and one Wheel of Fortune Pen. ARV: $216.00