Click Here for Answers to the LIVE's Snow Wild Web Trivia Sweepstakes. Enter each weekday for the chance to win a kitchen appliance package.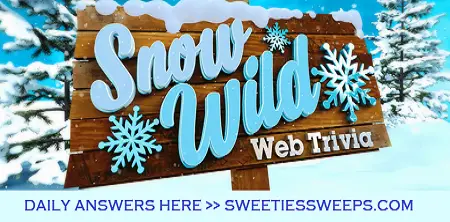 Sweepstakes Rating: Okay
Eligibility: US, DC, Canada, (excluding Quebec), 18 and older.
Entry Dates: January 4, 2016 and ends on March 4, 2016 at 11:59 PM ET
Random Drawing: on or about January 11, January 18, January 25, February 1, February 8, February 15, February 22, February 29, and March 7, 2016
Click Here to Enter | Official Rules
Entry Limit: one entry per person per 24 hours between 9:00 AM ET and 11:59 PM ET. Sharing is optional and will not give you bonus entries.
Snow Wild Web Trivia Answers:
January 4: On Friday's show, we talked with Emma Roberts. Who did Emma say was her celebrity crush when she was growing up? Jonathan Taylor Thomas
January 5: On yesterday's show, we talked with Samuel L. Jackson.  Who did Samuel say he went golfing with in Hawaii? Kenny Leon
January 6: On yesterday's show, we talked with Jennifer Jason Leigh.   What did Jennifer say was the thing she hated most about filming "The Hateful Eight?"  The Stew
January 7: On yesterday's show, we talked with Felicity Huffman.  In what hotel did Felicity say she stayed while in New York? The Pierre Hotel
January 8: On yesterday's show, we talked with Emmy Rossum.  What did Emmy say was the name of her boat driver while on vacation in Anguilla? Little Eddy
January 11: On Friday's show, when Kelly stomped grapes, what did we say Andy Cohen was wearing? Lederhosen
January 12: On yesterday's show, we talked with Heather Graham. What did Heather say is hard to find in Cuba? Wi-Fi
January 13:  On yesterday's show, we talked with Lucy Hale.  What bizarre food did we say everyone (Michael, Lucy & Kelly)  tasted? Grasshoppers
January 14: On yesterday's show, we talked with Brie Larson.  What did Brie say was the title of the skit she appeared in on the "Tonight Show with Jay Leno?"  Malibu Mudslide Barbie
January 15: On yesterday's show, we talked with Hugh Bonneville.  Where did Hugh say he keeps the souvenir letters he took from the set of "Downton Abbey?" In the downstairs loo
January 18: On Friday's show, what animal did we say someone took on a plane for emotional support? a turkey
January 19: On yesterday's show, we talked with Megan Boone.  What spicy food did Megan say she was eating when her unborn baby started fighting back? Lemongrass Soup
January 20: On yesterday's show, what did Kelly say was her favorite Christmas gift when she was a kid and which she received again on yesterday's show? McDonald's Train Set
January 21: On yesterday's show, we talked with Josh Radnor.  What did Josh say he had hanging on the wall of his room which he later gave to his nephew? Swatch watch clock
January 22: On yesterday's show, we talked with Daymond John.  What product did Daymond say was originally sold as a floor cleaner? Listerine
January 25:  On Friday's show, we talked with Julianne Hough.  In what commercial did Julianne say her fiancé first saw her? Juicy Fruit Commercial
January 26: On yesterday's show, we talked with Sullivan Stapleton.  What did Sullivan say was the temperature in Australia before he came back to New York? 111 degrees
January 27: What did Carly Rae Jepsen say she once was asked to teach on a Japanese television show? Avocado Toast
January 28: On yesterday's show, we talked with actor Chris Pine.   What did Chris say he does that his friends make fun of him for? The way he hugs
January 29: On yesterday's show, we talked with Lili Taylor.  What did Lili say her 8 year old daughter is into? Monkey Bars
February 1: 

On Friday's

 show, we talked with Michelle Dockery.  Before she deciding to become an actress, what did Michelle say she wanted to be? Ballerina
February 2: On yesterday's show, we talked with Cuba Gooding, Jr.   In what musical did Cuba say he appeared in high school? Li'l Abner
February 3: On yesterday's show, we talked with John Travolta.  What did John say is the most unusual thing he does to relax? listen to spanish radio
February 4: On yesterday's show, we talked with LA Reid. Who did LA say is his musical soulmate? Mariah Carey
February 5: On yesterday's show, we talked with Dakota Johnson.  In what city did Dakota say she grew up?  Aspen
February 8: On Friday's show, we talked with actress Morena Baccarin.  In addition to Coca-Cola, what else did Morena say she has craved during her current pregnancy? Granola
February 9: On yesterday's show, we talked with Vanna White.  Who did Vanna say is responsible for her getting the job at "Wheel of Fortune? Janet  Gretzky
February 10: On yesterday's show, we talked with Ryan Reynolds.  How much money per episode did Ryan say he was paid for his first acting job. $150
February 11: On yesterday's show, we talked with Bob Odenkirk.  In what month did Bob say he celebrates his wedding anniversary? March
February 12: On yesterday's show, we talked with actress Penelope Cruz.  What did Penelope say is her family's nickname for her? The Duck
February 15: On Friday's show, we celebrated Kelly's 15th Anniversary. Who did we say surprised her on the air with a phone call? Cher
February 16: On yesterday's show, we talked with Allison Williams.  Before she got married, what did Allison say was the nickname her family has for their group texts? Core 4
February 17: On yesterday's show, we talked with Lauren Cohan. What did Lauren say she misses most about living in the U.K.? Quiz Shows
February 18: On yesterday's show, what kind of animal did we say trapped a postal worker in his truck? Turkey
February 19: On yesterday's show, we talked with actor Travis Fimmel.  What did Travis say he did for his allowance when he was home with his family recently? Fencing
February 22: On Friday's show, we talked with Lori Loughlin.  What did Lori say she did on Valentine's Day?  Went Golfing
February 23: On yesterday's show, we talked with actress Rachael Harris.  Where did Rachael say one of her wedding photos was taken after the ceremony? Subway
February 24: On yesterday's show, we talked with Chelsea Handler. What television series did Chelsea say she watched while spending two weeks at a spa? Mad Men
February 25: On yesterday's show, we talked with Taraji P. Henson.  What did Taraji say she broke while exercising? Fingernail
February 26: Earlier this week, we talked with Nikolaj Coster-Waldau.  What country did we say Nikolaj's wife is originally from? Greenland
February 29: On Friday's show, with the cast of what film did we say Kelly used the word "Scorcese" as a buzz word? Bridesmaids
March 1: On yesterday's show, Kelly talked with Oscar winner Leonardo DiCaprio. In addition to champagne, what other gift did we say we gave Leo? A Bear
March 2: On yesterday's show, we talked with Gerard Butler.  In what play did Gerard say he appeared and was his first paid acting role? Coriolanus
March 3: On yesterday's show, we talked with actress Laura Prepon.  What did Laura say she soaks quinoa in? YOGURT
March 4: On yesterday's show, in what city did we say there is a class for "rage yoga?" Calgary
Prizes (one per week): kitchen appliance package that includes 1: Elite 14 cup die-cast food processor (FP14DC) – Griddler (GR4N) – 6 Qt. Cook Central multi-cooker (MSC600) & Extreme Brew™ 10-Cup Programmable Coffeemaker (DCC2750)