One thousand winners will be chosen EACH DAY to win $1,000 in cash from the H&R Block Win $1,000 Daily Sweepstakes. Enter for your chance to be one of the 1,000 daily winners of a $1,000 check!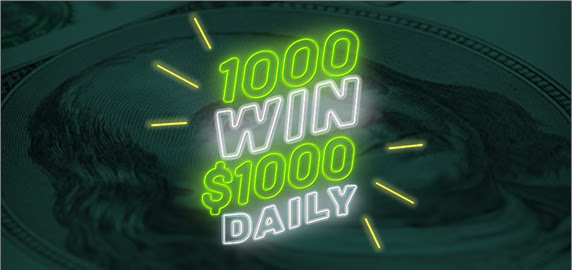 Sweepstakes Rating: Good (Official Rules)
Eligibility: US, DC, 18 and older
Entry Dates: begins January 4, 2016 at 12:00 a.m. PT and ends on February 15, 2016 at 11:59 p.m. PT
Random Drawing: daily from January 16, 2016 to February 19, 2016.
Paid Tax Preparation Entry: When Sponsor or its franchisees or affiliates prepares your 2015 federal tax return on Form 1040, 1040A or 1040EZ at a participating H&R Block location, you will receive the opportunity to submit one entry (or, if you file a Married Filing Jointly Eligible Return, one entry each for you and your spouse) into the Promotion based on the applicable Entry Date, which is the date you pay (or arrange payment via a RAC) for the completion of the Eligible Return
Mail-In Alternate Method: hand print the following information on a 3″ x 5″ note card your full name; your e-mail address; your mailing address; your date of birth (mm/dd/yyyy); your home phone number; and your responses to the following questions:
What tax preparation method did you use to file your 2015 taxes?
What form did you use to file your 2015 taxes?; and
Have you used H&R Block to file your taxes?
You will receive one entry into the Promotion based on the applicable Entry Date, which is the date your entry is postmarked. Mail it in an envelope with proper postage to:
"H&R Block 1,000 Win $1,000 Daily Sweepstakes"
c/o HelloWorld, Inc.
P.O. Box 5030, Department 823260
Kalamazoo, MI 49003-5030
SWEETIES NOTE: You can use an index card to write your entry on. Make sure to answer each of the questions above on your entry by mail so you aren't disqualified. I would suggest writing the questions out and then answering them. Since you only get one entry make it as perfect as possible.
(32,000) Prizes (1,000 awarded per Daily Drawing): A $1,000 check.
Entry Limit: one entry per person. Any attempt by you to obtain more than one entry by any method will void your entries and you may be disqualified. Non-winning entries from each Daily Drawing will carry over into subsequent Daily Drawings.
H&R Block Sweeties Sweepers Winner's List:

NOTE: Sweeties Sweeps is not affiliated with the H&R Block sweepstakes and does not pick the winners. We just post the rules and the winners who tell us about their win. There will be many more winners we do not know about.

If you were notified that you are a winner and would like your name to appear below, please let us know and we will add it. Only winners who were already notified by email are listed below. If you are a winner, you will be notified by H&R Block and the email will come from [email protected] with the title You won $1,000 from H & R Block! with details on how to claim your prize. You only have 4 DAYS TO CLAIM A PRIZE so check your email often and your junk folder too.

Good Luck and Congratulations to those who have already won!

Check the Ongoing Winner's Map Here

Daniel
Jeff
Cheryl S