You can win every single 12 Days gift, just for watching Ellen! That's 8 trips, including Disney Aulani in Hawaii, a 55″ and 32″ TCL Roku TV, over $12,000 in gift cards, and much more! Watch the show every day and look for the classic joke on the screen, then enter the correct punchline!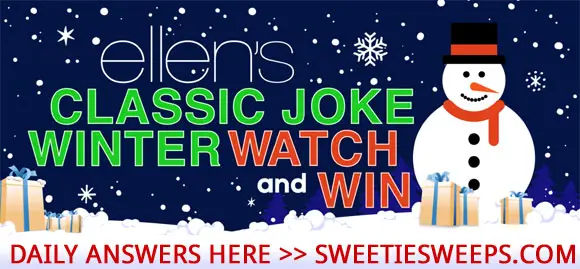 Sweepstakes Rating: Okay
Eligibility: US, DC, 18 and older
Entry Dates: December 22, 2015 and ends on January 4, 2015
Judging Criteria: Sponsor, will select approximately forty (40) Statements from eligible entries for final voting by the judging panel.   The winning Statement will be determined, based 33.3% on creativity, 33.3% on originality, and 33.3% on appropriateness to the theme of the Contest (i.e., why do you deserve to win?).  The Statement entry receiving the most votes by the judges will receive the Prize
Website Entry Form | Official Rules
Watch "The Ellen DeGeneres Show".  During each episode of the Show during the Contest Period, a "Classic Joke" will appear on-screen. Correctly answer, from the multiple choice options provided by Sponsor at Sponsor's sole discretion, the punch line to the Classic Joke posed on the Show episode broadcast on the date of entry into the Contest.  Each Classic Joke and corresponding answers will be valid during the Contest Period from 6:00am PT on the day of the Show's broadcast until 6:00am PT the following day. Shows airing on Fridays will have Classic Jokes and corresponding answers that will be valid during the Contest Period from 6:00am PT the day of the show's airing until 6:00am PT the following Monday. If Contestant enters an incorrect answer to the Classic Joke, Contestant's entry will be disqualified.  The Classic Joke and corresponding answers will change each business day during the Contest Period.
Submit a photograph for purposes of confirming identity and for publication in the event that you win the Prize (publication at the sole discretion of Sponsor).  Submission of the Photo will not affect whether or not Contestant will win the Prize. A written statement of no more than approximately three hundred (300) words about why you deserve to win.
You must complete the entry form and provide the correct answer to the applicable Classic Joke in order to be entered into the Contest. You must provide the Statement (as defined above) each time you complete the entry form.  Failure to provide the Statement as part of each entry form will invalidate your entry.
Ellen's Watch & Win Classic Joke Punchlines:
December 22: Croak-a-Cola
December 23: Jason Seagull
December 24: Sundae school
December 25: Did not get the answer, the show was not shown in my TV Market today
December 28: Thyme
December 29: They use honeycombs
December 30: Frosted Flakes
December 31: Fleece Navidad
January 1: Dr Dre
January 4: It over swept
Entry Limit: one entry per person per day
One (1) Grand Prize: one winner will win every single one of the gifts from the 12 Days of Giveaways (see Rules for list of prizes) ARV: $38,349