Time Out gives one Lucky blogger the chance to live the Ultimate New York Life #UltimateNYCLife with a nation-wide search for Time Out New York's next star blogger. Think you've got what it takes to be Time Out New York's next great blogger? Enter now.
If you're not a blogger but know one who might benefit from this opportunity, please share it with them.
Time Out Magazine, the global multi-platform media company, launches a nationwide campaign to discover Time Out New York's next star writer.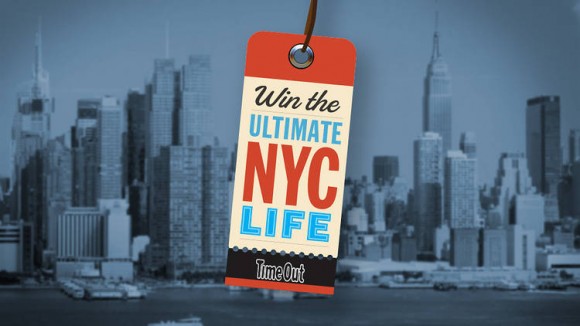 Time Out is on the hunt for a talented blogger to spend six months shining their expert light on the greatest city in the world – New York –  while having the time of their life. The brand will provide a fabulous Upper West Side apartment by Stonehenge NYC – rent-free. Plus, the exclusive opportunity will grant the winner access to events, with several perks included.
To enter the 'Win the Ultimate New York Life' competition, participants from across America will submit sample blog posts on city living. The campaign will accept submissions until October 18, and readers will vote for their favorite blog entry from the top 15 finalists selected by Time Out editors from October 26 through November 9.
Official Rules: Open to legal residents of the United States who are 21 years of age and older and who are physically located and reside in the United States at time of entry. Void in Puerto Rico. Begins on September 29, 2015 and ends 11:59:59 PM ET on November 9, 2015. One entry per person. Read More
One Grand Prize Winner will receive The Ultimate New York Life, which includes roundtrip airfare from the winner's city to New York, six (6) months rent in New York City, salary at Time Out New York for six (6) months and other perks, events as they may arise. Prize must be used from December 1, 2015–May 30, 2016. Approximate retail value: $50,000. Winner will receive housing in a one-bedroom apartment (approx. 700 square feet) at 235 W 48th St, New York, NY. Apartment is valued at approximately $24,000 for the six month time period. No pets are allowed in the apartment unless authorized by the landlord, renter's insurance will be required at tenant's expense and 80% of the floor space must be covered by the winner; occupancy is pursuant to a sublease agreement. Prize will be awarded "as is" (see descriptions above); no cash alternatives will be given. If any part of the prize package is unable to be awarded as planned, for any reason, including but not limited to, cancellation, scheduling conflicts or an event of force majeure, the remaining components of the prize will be awarded and Sponsor's obligation to the winner will be fulfilled, and no other additional compensation will be provided. If for any reason winners are unable to use prizes within the time specified, the participating organizations are not responsible for providing replacement prizes. No makeup goods will be given in the event of a canceled or rescheduled event. All taxes and any other costs not specifically stated within these Official Rules are the sole responsibility of the winner.
One lucky winner will be unveiled on November 17 and receive a six-month stint at Time Out New York starting December 1, blogging about the best things happening in the city – and living it up.
"Here at Time Out New York, we're excited to give one lucky blogger the chance to live the New York City dream, rent-free and doing what they do best – writing! Time Out inspires people to get out and make the most of their city and it'll be a chance to personally explore and cover the best that the city has to offer," says Time Out New York's newly appointed Editor Carla Sosenko.
In over 100 cities across the world, Time Out is the premier source of city inspiration offering recommendations from the best restaurants and bars, to concerts, art exhibitions and theater shows.