Enter a Halloween Costume photo and you could win a Slideshow Video Package worth $450. Share your Creepiest, Scariest, Funniest, Cutest, Adorable or Unique Halloween Costume of you, your child or your pet that was worn in the past or present. Get friends to "Like" your photo for a chance to win a Slideshow Video Package valued at $450. Photo with the most "Likes" wins. What's included in the Package? Up to 150 Images, Approx. 3-4 Songs, Length – 10 to 15 minutes, Up to 15 photo's scanned to digital, Phone Consultation, Photo Enhancement, Unlimited Titles and Captions, Web Previewing, Choice of Format, and Downloadable High Quality Final Version File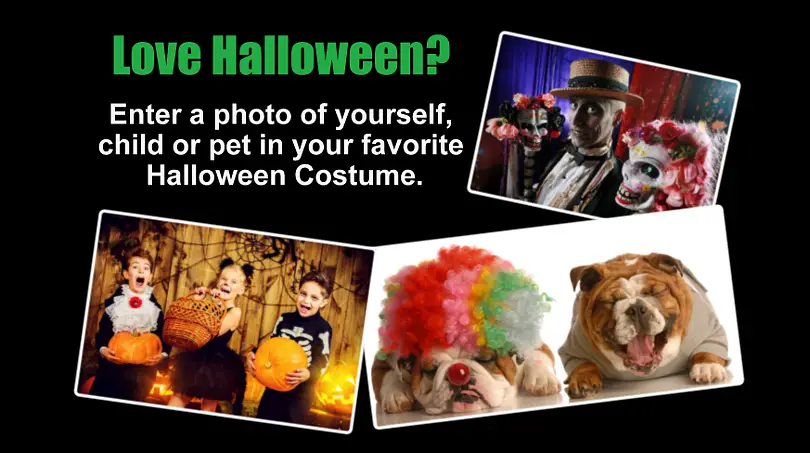 Sweeps Rating: Okay
Eligibility: United States; 18 years of age and older
Entry Dates: October 22, 2015 and ends on October 31, 2015
Judging held on or about November 4, 2015
Website Entry Form | Official Rules
Entry Limit: one entry per person.
Prize Details: one winner will receive a Slideshow Video Package ($450 value). What's included in the Package? Up to 150 Images, Approx. 3-4 Songs, Length – 10 to 15 minutes, Up to 15 photo's scanned to digital, Phone Consultation, Photo Enhancement, Unlimited Titles and Captions, Web Previewing, Choice of Format, and Downloadable High Quality Final Version File
How to use your the prize package: Special Gift for a Birthday, Anniversary or Retirement – SlideshowMemories.net will create a timeline video matching Historical Events when the Person grew up. A Beautiful Wedding Memory – SlideshowMemories.net will combine your Wedding Day and Honeymoon Photos plus any Video Clips into one awesome show. A Once in a Life Time Vacation Show off all your photos and videos in one magnificent show. Promoting Your Business and of course showing off a Halloween party you had this year.