Did you know that you can sign up for UPS alerts to get notified when a package is going to arrive at your house? It might not be a prize, of course, but it is just another way you could find out if something you weren't expecting is on the way to your door. A lot of sweepers are using free UPS alerts.
UPS My Choice is a FREE way you can get UPS alerts. By getting alerts from UPS you can also make sure you plan to be home when the package or envelope is due to arrive or have someone look out for it.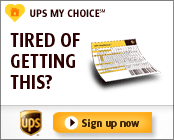 The Free Standard UPS My Choice Account allows you to:
Give authorization online for UPS to deliver packages without a signature when you're not going to be home to sign in person
Be notified by email,  voice message or text message the day before your delivery is due
Request your packages be delivered to The UPS Store near you for pickup
Have your packages delivered to another address
How to Sign up for UPS Alerts:
Visit ups.com/one-on-one
Click Sign up Now.
Log into your existing UPS account or create one.
If you are creating an account you don't need to include a company name and you don't need to get other newsletters from them to still get alerts. You can type variations of your name in the profile too.
If you want more options they have a Premium account that costs $40 per year.
The Premium UPS My Choice Accounts allows you to:
You still get all of the features of the Free account plus these

Manage and track all your home deliveries with a convenient, online calendar
Designate where you would like our driver to leave your package (e.g. back porch)
Get a confirmed two-hour window for home delivery
Reschedule the delivery of a package while you're on vacation
This post is sponsored by UPS and contains affiliate links. For more information please visit my Disclosure Policy

Disclosure: this sweepstakes listing
may contain
an affiliate or tracking link but we
do not use referral links
. Read about our
policies
for more details.