Pampers is going to send one lucky family to the 2012 Summer Olympics in the Pampers Team USA Sweepstakes that goes through May 19th. Register for a chance to win the grand prize trip for a family of four to attend the London 2012 Olympic Games and attend the first ever Pampers Playground event alongside Team USA Hopeful, Kerri Walsh, and her husband and sons.
Weekly winners will win a one month supply of Pampers Limited Edition "USA" diapers and wipes as well as a souvenir volleyball signed by Kerri Walsh from now until August 12.
Click here to read all of the details and make sure you enter my giveaway – see details below.
In honor of the 2012 Summer Olympics, Pampers Limited Edition "USA" diapers and wipes will be on store shelves too. They combine utility and aesthetics, so little ones can explore and conquer their world through play, while also amping up team pride during the London 2012 Olympic Games. The diapers feature an adorable "USA" logo print combined with red, white and blue stars and stripe designs while the wipes packaging pays tribute to Team USA with a similar design. Pampers Limited Edition "USA" diapers and wipes designs will be available in mid-April while supplies last at select stores nationwide. The limited edition diapers are available in Cruisers sizes 3 through 5.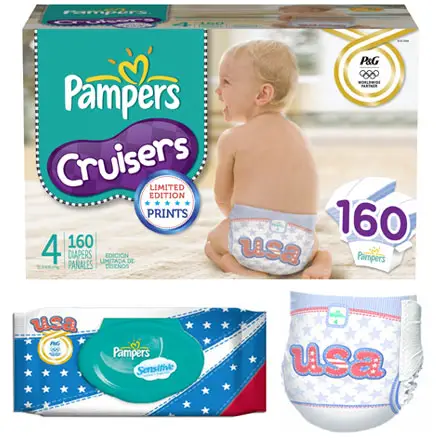 Visit the Pampers Playground to share all the ways babies love to play. There you will find:
The Picnic Table: upload and share photos and videos of all of the different ways their baby likes to play
The Toy Box: fun tools and games to help baby play each and every day including an interactive storybook
The Park Bench: articles detailing the importance of play for little ones
P&G, the parent company of Pampers, will showcase their heartfelt "Thank you, Mom" campaign at the London 2012 Olympic Games recognizing the incredible role that mothers play in the lives of their children.  As part of this of this inspiring campaign, P&G plans to raise $5 million to help establish and sustain youth sport programs around the world. A portion of sales and donations for the company's leadership brands including Pampers®, Tide®, Gillette®, and Pantene®, will help those who moms care about the most… children.
WANT TO WIN? HOW TO ENTER:
WINNER INFO: The giveaway is now over and the winner has been randomly chosen. The winner is:
Ann Altaher ann79thc….
ONLY ONE ENTRY REQUIRED:
Leave a comment below and tell me if you will be watching the Olympics this year and if so, what is your favorite Summer Olympic sport to watch (if you don't watch that is fine too, just let me know)
Note: If you don't see your comment right away that means it is pending and is waiting to be approved. I check comments a couple times a day so please wait if you don't see yours right away.
PRIZE: One winner will win Pampers Limited Edition "USA" diapers (economy box MSRP $50; approx. 140+ diapers, size 3 only) and wipes (MSRP $3.99; approx. 72 wipes).
General Giveaway Rules: No Purchase Necessary. This giveaway is only open to residents of the United States who are 18 years of age or older. Ends on April 29, 2012, at midnight EST. The email addresses that are collected for this giveaway will only be used for the purpose of contacting the winner and will never be given out to anyone nor sold. The winners will be randomly chosen and contacted via email. The winner will have 72 hours to respond. Only one winner per household. Please make sure you check your junk mail folder.
Disclosure: P&G is providing and shipping the prize to the winner and sent me the products mentioned above to try out and keep. I think I will save them for an upcoming baby shower. All comments and opinions are my own!