Today, January 18, Sweeties sites will join #sopastrike along with Reddit , BoingBoing, Wikipedia, WordPress, Google, and other sites around the Internet to oppose SOPA and PIPA, the pending US legislation that creates punishing Internet censorship.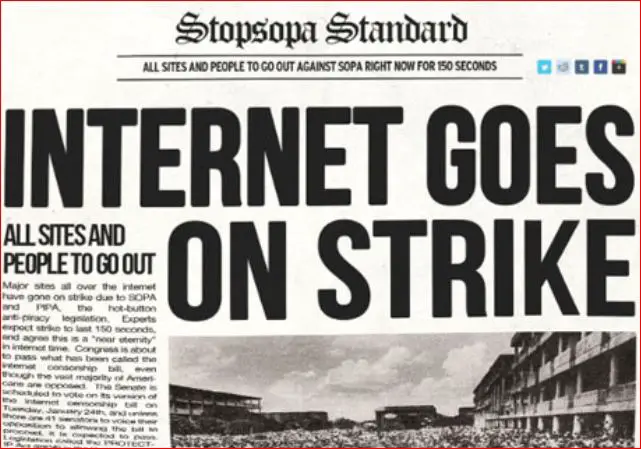 Join in the fight by tweeting using the hashtag #sopastrike and educating yourself on what these bills are about.
What is SOPA?
From SOPAStrike.com: On Jan 24th, Congress will vote to pass internet censorship in the Senate, even though the vast majority of Americans are opposed. We need to kill the bill – PIPA in the Senate and SOPA in the House – to protect our rights to free speech, privacy, and prosperity. We need internet companies to follow Reddit's lead and stand up for the web, as we internet users are doing every day.

From American Censorship.org: Legislation called the PROTECT-IP Act (PIPA) in the Senate and the Stop Online Piracy Act (SOPA) in the House are purported to be a way to crack down on online copyright infringement. In reality the bill is much broader. It would empower governments and corporations to take down virtually any website, create new liabilities and uncertainties for web innovators, and make the web less safe…On top of all that, cybersecurity experts say it wouldn't stop copyright infringement.
Read the SOPA bill here: www.opencongress.org/bill/112-s968/show
Basically, if the bill were to be passed it would mean that for a blog or website to link to another blog, Tweet, Facebook post, or any other site on the web, we would have to verify that the site we are linking to is not infringing on anyone's copyright or be penalized or even have their site shutdown by the government without any warning. This is literally impossible. If you post something to YouTube that is copyright material, for example, then YouTube could get shutdown, without even a warning – so you get the impact it could cause. If you Like a post that is copyright material you could be penalized.
I haven't read the bill and only slightly knowledgeable so please read it for yourself and be aware what is going on.
Tell your Congressman you oppose SOPA – click here