Mark your calendar because @Zaggdaily is giving away an #iPad4 every hour on Black Friday. While everyone is out shopping you could be at home winning. You can enter the giveaway once per hour and receive up to three additional entries per hour by sharing the giveaway on Facebook and Twitter.
Sweeps Rating: Okay
Eligibility: 18+ no country specified
Entry Dates: begins 12:00 am MST on Black Friday, November 23, 2012 (Mountain Time) and ends 24 hours later.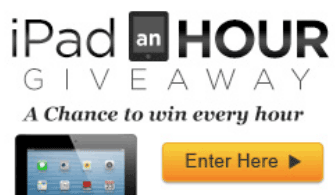 Sweeties Note: We will post a reminder the night before on Facebook so you make sure to enter this sweeps. We will also send out hourly reminders on Facebook and Twitter.

A little trick I found is that you DON'T really have to share to get extra entries. Click on the Facebook , Twitter, or Pinterest share button. It will open a new window. Let the new window load completely and close it without sharing. You will see that you get credit for it anyway.

Problems Entering? It could be that it is not letting us enter at the top of the hour but an exact hour from the time we entered before. To get around this you can delete the cookies just for that site.

Firefox:

Click on the Tools menu at the top of the screen.
Click Options.
Click the Privacy tab at the top.
Click Remove Individual Cookies
Type Zagg and search.
Remove everything Zagg related.
Click Close and OK.
Refresh the Zagg page.

Internet Explorer:

Click on the Tools menu at the top of the screen.
Click Internet Options.
Click the Settings button under Browsing history.
Click View Files.
Click the Search button at the top of the window that opens.
Click All files and folders on the left hand side of the screen.
Search for cookie.
Delete all of the corresponding cookies in the window.
Entry Limit: one entry per household per hour.
Previous winners, employees of the Company, this giveaway's participating sponsors and their advertising agencies, and members of the immediate family of any such persons are not eligible to participate and win.
Twenty-Four (24) Prizes: Apple iPad 4 Wi-Fi 16GB
Random Drawings: Winners will be selected by random drawing of all entries submitted each hour. Winners will be notified by e-mail. Winner has 72 hours from notification to respond to receive prize. If prize is not claimed within 72 hours the prize will be forfeited.