What a blast to see the video of Sweeties Reader, Amy Ferrell winning the @Macys Million Dollar Makeover grand prize. She entered after reading about it here on Sweeties Sweeps and became one of the 8 semi-finalists and eventually one of the 2 finalist. America, and Sweeties readers, voted and Amy won the grand prize.
She is set for life now with $1,000,000 in cash, appliances from Kitchenaid, a houseful of Martha Stewart Living products from Macy's, trip to Italy, trip to New York City to meet with a Food Network Chef and eat at his restaurant,  prizes from Verizon and a whole new wardrobe from Tommy Hilger for her and her family.
About Amy Ferrell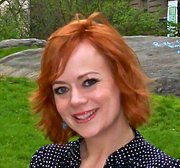 I am a kindergarten teacher and have been an educator for 6 years.  I am married to a teacher and a mother to 5 children, 3 of whom are an older sibling group we adopted 3 years ago from Ghana, West Africa.  I also lost 60 pounds over the past year through eating right and exercising.
I started following your site last fall and love all of the sweepstakes and freebies, though I only enter some and apply for really appealing freebies!  I love how easy your site makes it for a busy working mom like me!
I am so completely and utterly astonished to be the winner of Macy's Million Dollar Makeover! Our family sends a HUGE thank you to Macy's and everyone we worked with in the production. We were treated with love and kindness by all of the Macy's, Vimby and …JWT folks. They took the time to connect with us and make our children feel valued. I send an equally huge thank you to Clinton Kelly for helping me remember to enjoy being a woman again and making me feel more beautiful than I ever have. I had forgotten that spending a little time on myself could give me a sparkle and a shine that made my busy days fun. And thanks to all of you that voted for our family and believed in the goals and dreams we have. I am thrilled to be able to have a home for my family and get the Da Vincineers started!
Watch the video and see how Macy's told Amy she was the winner and then watch to see everything she received as the grand prize winner