The winner is: Lisa W: rorogirl7…
Mother's Day is Sunday, May 8,2011, so it's right around the corner. I was given the opportunity to review Shari's Berries, a Proflowers company, and jumped at the chance. Now is perfect for Mothers Day Chocolate Dipped Strawberries
I had seen Shari's Berries advertised everytime I visited the Proflowers site but never had the opportunity to order any. Shari's Berries sells fresh strawberries that have been hand-dipped in chocolate – milk, dark and white – and then hand decorated. They have gift packs of just hand dipped, Chocolate Cover Strawberries or you can get them with other things like dipped brownie pops or chocolates cakes.
Not one to buy something so extravagant for myself, I ordered these for my neighbor who just had knee surgery.
Shari's Berries comes in a refrigerated box so you must take them out as soon as possible and put the inner box in the refrigerator. They are a fresh product and will go bad. This is indicated on the box when you receive it. Inside you will see that it is packed very well with styrofoam to protect the packaging, and also on the inside cover to protect the actual berries.
Note: Make sure someone is going to be home when these arrive so they don't sit outside in the elements.
My order arrived in just a few days from the time I placed it and they were in perfect condition. If you ever receive anything you ordered from Shari's Berries in other than perfect condition, call them and they will either refund your money or replace them for free.
I ordered the Full Dozen Giant Dipped Mother's Day Berries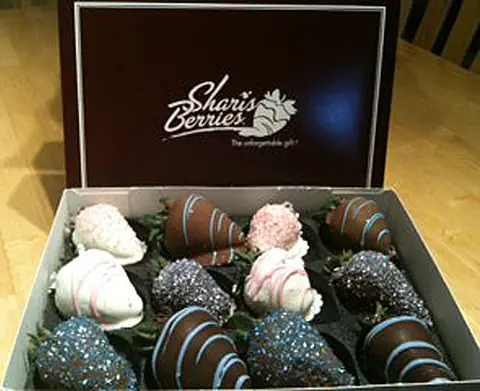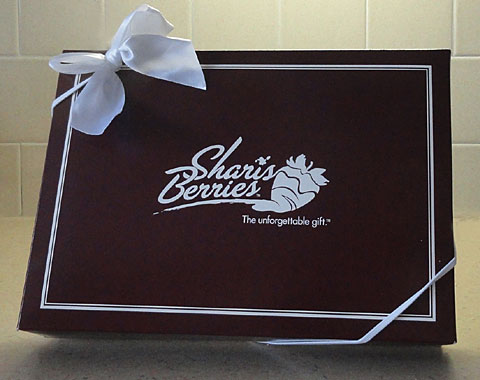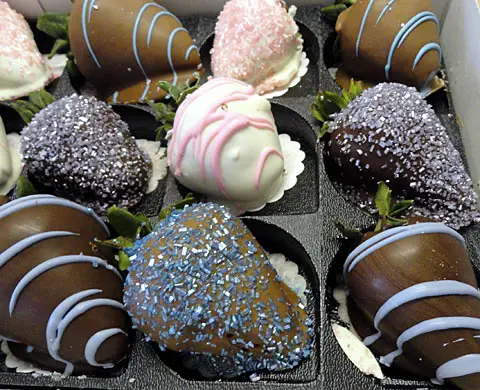 [iframe: title="YouTube video player" width="480″ height="390″ src="http://www.youtube.com/embed/CZ65DZtL-bE" frameborder="0″ allowfullscreen]
Bonus Coupon: Entering BERRYGOOD at checkout will give you a 15% discount.
How to Win a Shari's Berries Gift Code:
Mandatory One Time Entry:
1. Become a Fan of Shari's Berries on Facebook (you will get a one-time use 20% off coupon) – one per person
2. Leave a comment below. (one time after you LIKE their Facebook page)
Optional Daily Bonus Entry:
1. Share this giveaway on Twitter or Facebook by clicking the appropriate share button below this post. (once a day)
2. Leave a comment below after you share (once a day)
Prize: One winner will receive a $50 gift code to be used for anything at Berries.com. Combine it with the 20% off code and get even more.
How the Winner will be chosen: The winner randomly be chosen for those readers who do one or more of the things mentioned above and leave a comment below. The winner will be verified to make sure they are a fan of Shari's Berries on Facebook.
Giveaway Rules: This giveaway is only open to residents of the United States who are 18 years of age or older. Ends on May 1, 2011, at midnight EST. The email addresses that are collected for this giveaway will only be used for the purpose of contacting the winner and will never be given out to anyone nor sold. The winners will be randomly chosen and contacted via email. The winner will have 72 hours to respond to my email. Please make sure you check your junk mail folder. The winner will also be posted on Sweeties Sweeps.
FTC Disclaimer: I received my choice of item from Shari's Berries but did not receive any compensation. All opinions are my own. Shari's Berries is providing the prize.