#spons @lifetimemoms Enter the Clean Start Challenge Sweepstakes and you could win a Grand Prize of $5,000 and a gift basket of great products from SC Johnson! Plus monthly prizes!
Eligibility: open to individual legal residents of the fifty (50) United States and the District of Columbia, who are eighteen (18) years of age or older, and have reached the age of majority, as of the beginning of the Sweepstakes.
Entry Dates: begins on January 4, 2011, and ends at 11:59:59PM (ET) on March 31, 2011
The Sweepstakes consists of three separate monthly sweepstakes and one grand prize sweepstakes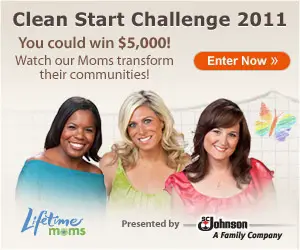 How to Enter: visit www.lifetimemoms.com and complete the registration form
Entry Limit: five (5) entries per person/day/email address. All monthly sweepstakes entries must be received by 11:59:59 pm on the last calendar day of each month.
Prizes:
Three Monthly Prizes (one per month): $1,000.00 awarded in the name of the Monthly Prize winner in the form of a check and an S.C. Johnson Gift Basket with an Approximate Retail Value $50.00.
One Grand Prize: $5,000.00 awarded in the name of the Grand Prize winner in the form of a check and an S.C. Johnson Gift Basket
Drawings: Monthly Sweepstakes: Three (3) Monthly Prize winners will be randomly selected in three (3) separate drawings held on or about February 3, 2011 for the January Monthly Sweepstakes; on or about March 3, 2011 for the February Monthly Sweepstakes; and on or about April 4, 2011 for the March Monthly Sweepstakes. Grand Prize Sweepstakes: on or about April 4, 2011
Rules: sweepstakes.lifetimemoms.com/clean-start-challenge-2011/rules
Sweeps Rating: Okay