The winner of the Fritolay Sweeties Giveaway is Noel jlynch63…
@fritolay In Sweeties house we love, love, love football and what goes better with football than Fritos or Tostitos and an awesome dip. – well, beer of course, but that is another story.
In our house we love chips as much as the next person but there is just something special about Fritos and Tostitos because they are so perfect for dipping and munching.
Fritos and Tostitos are not only perfect for dipping, but they're made with just three simple ingredients: Corn, healthier oils, such as corn oil, and salt.  And if you're looking for an easy way to add whole grains to your diet, Tostitos now has 8 grams of whole grains per serving.
Here are couple of healthy and nutritious recipes from dietitian Jessica Levinson of nutritioulicious.com you might want to try next Sunday while watching your favorite football game. They will give you football party a unique kick.
Caramelized Onion Dip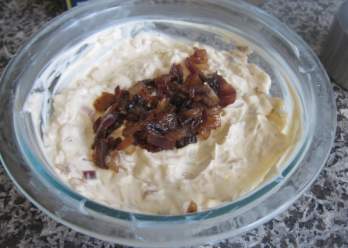 Serves: 12; Serving Size: 3 oz
Prep time: 10 minutes
Cook time: 40 minutes
Total: 50 minutes
Ingredients:
2 tablespoons olive oil
5 small to medium onions, finely chopped
2 tablespoons sugar
2 cups nonfat Greek yogurt
2 teaspoons salt-free garlic powder
Salt and freshly ground pepper, to taste
Directions:
Heat olive oil in a skillet over medium heat. Add onions and sugar and sauté, stirring occasionally, until the onions are golden brown and caramelized, about 40 minutes. Set aside and let cool.
While the onions are cooking, mix together the yogurt, garlic powder, and salt and pepper, to taste.
When the onions are room temperature, add ¾ of them to the yogurt mixture, transfer to a bowl, and top with the remaining onions.
Nutrition Information (per 3-oz serving):
68 calories, 4 g protein, 8 g carbohydrate, 1 g fiber, 2 g fat, 0 sat fat, 0 mg cholesterol, 56 mg sodium
Cheesy Bean, Zucchini and Red Pepper Dip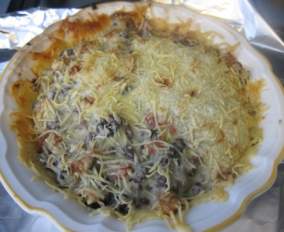 Serves: 8; Serving Size: ½ cup
Prep time: 15 minutes
Cook time: 30-35 minutes
Total: 45-50 minutes
Ingredients:
1 tablespoon olive oil, divided
1  small zucchini, cubed
1 small red pepper, cubed
1  small red onion, chopped
1 to 2  jalapeño peppers, seeds and ribs removed, chopped
1 can (15-ounces) black beans, drained and rinsed
1/2  teaspoon salt
Freshly ground black pepper
1  teaspoon  chili powder
1 cup grated reduced-fat Monterey jack or cheddar cheese
Directions:
Preheat oven to 350ºF.
Heat 1 teaspoon olive oil in a skillet over medium heat. Add zucchini and sauté for 3 to 5 minutes, until soft. Remove from pan and set aside.
Repeat step 2 with the red pepper, and then repeat again with the onions.
Once the vegetables are all cooked, add them all back into the pan over low heat for another 3 to 5 minutes.
Transfer vegetables from pan to a small- to medium-sized ovenproof bowl. Add the drained beans, salt, pepper and chili powder, and toss to combine.
Top bean and vegetable mixture with cheese and bake for about 10 minutes. Once the cheese is mostly melted, broil the dip for about 2 to 3 minutes until the cheese is brown and bubbly.
Nutrition Information (per ½ cup serving):
106 calories, 7 g protein, 10 g carbohydrate, 3 g fiber, 4 g fat, 2g sat fat, 8 mg cholesterol, 247 mg sodium
Frito-Lay wants to give one Sweeties reader a beautiful hand painted, ceramic dip and chip bowl. This bowl is in the shape of a football stadium and come with a removable football shape dip dish.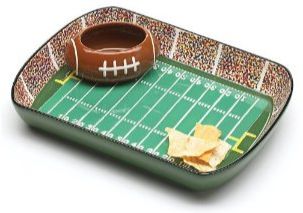 If you need this the perfect tailgating accessory stadium chip and dip bowl and don't want to wait to win it you can purchase it now on amazon.com
and shipping is free.
How to Win the Stadium Dip and Chip Bowl: two ways
Leave a comment below and tell me your favorite Frito Lay snack – 1 entry per person
Click here to send this tweet on Twitter – 1 per person per day
Tweets will be tracked automatically so you don't need to leave a comment after each one.
Giveaway Rules: This giveaway is only open to residents of the United States who are 18 years of age or older. Ends on November 14, 2010, at midnight EST. The email addresses that are collected for this giveaway will only be used for the purpose of contacting the winner and will never be given out to anyone nor sold. The winners will be randomly chosen and contacted via email. The winner will have 72 hours to respond to my email. Only one winner per household. Please make sure you check your junk mail folder. Winners will also be posted on Sweeties Sweeps.
FTC Disclaimer: All opinions are 100% mine and I was not influenced by Frito Lay to write this post. I did not receive payment nor a product to host this giveaway but I did receive some tasty Frito snacks to try out.