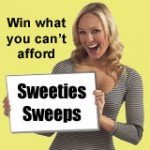 There are so many winners on this site these days that it is hard to keep up posting all of the wins. Here are some winner's stories I have received recently. There are so many stories that I will be breaking them up into multiple posts until I have them all posted so stay tuned.
Do you have a winning story you want to share? Just email me and I will include it in an upcoming post [email protected]
From Jessica
Sweetie, I just want to say a big thank you for all the work you do for us!  I started sweeping in January and absolutely love it.  Between work, school and social obligations, life wears me thin. Sweeping has provided me with a relaxing hobby that has paid off big!  I love just sitting down with my laptop and quietly entering contests and playing instant win games.
I have won a lot of smaller items, such as a video camera, free food coupons, nice pool cue, and various odds and ends.  My first big win came from an Anne Geddes one-entry sweep where I was glad I won 2nd place as it was a $500 Visa card and 1st place was a limited edition Anne Geddes poster..!  I was thrilled when it arrived!  (It is paying for our 1st Anniversary cruise next month!)
But back in July was my biggest win to date: Grand Prize of $8000 in the Century 21  Sweepstakes!!  Because it was the only mail-in I had done, and because it was one that I could only enter once a month for three months, I immediately knew it was legit when I saw my notification email.  I sent in the affidavit but was still very skeptical.  I patiently waited and waited.  I counted the weeks and when it was in the 10th week of the 8-10 weeks, sure enough…in the regular USPS mail, there was an envelope from ePrize with a congrats letter and a REAL $8000 check made out to ME!!  I think I stopped breathing.
This could not have come at a better time.  There is so much my husband and I can do with that money 🙂  I found this sweepstakes on your Secret Site.  I have to admit, at first I was a little hesitant in joining that site, but once I realized that this hobby was going to take off, I joined and it have MORE than paid for itself!
Plus, I love the forums so I can communicate with others with my same interests!  So thank you for your continued efforts and vast knowledge.  I very much appreciate it!!
From Behki
Besides winning a race windbreaker for my nephew, this is the biggest win I've had ever! I received in the mail today: "Congratulations! You have been selected as a First Prize winner in the Weber "Savor The Flavor Sweepstakes" You have won a Genesis S-310 gas Grill."
I had been having the worst week ever and came home from the doctors office to find this in my mailbox. I could not be happier! I've never owned a grill before.
Can't wait to get this and try it out! Thank you so much for having a site like this where its easier to find and enter sweepstakes.
From Chris
Woop! woop! HI WENDY!!! I'm soo excited!! I just emailed you about a week or so ago about winning the baseball tickets to the nationals game but I got a call today from Flavorx, I've been trying REALLY HARD to win their contest for Yo Gabba Gabba tickets. I took our kids to the show a few weeks ago and actually paid an arm and a leg (that I didn't really have) to their show with VIP tickets only to be told that they weren't the right kind of VIP tickets to get us to see the characters after the show for a meet and greet. Needless to say I was VERY disappointed when we found this out. The show was AWESOME but still disappointing.
So I came home determined to try to get to see them again, but I just knew I couldn't afford to buy anymore tickets. I was on their site and saw 2 contests they were having. One of them you had to submit a video, didn't have time to do that. The other one was the flavorx one. Thanks to all your good advice and knowledge I printed out the sweeps rules and followed them to a tee.
I took my chances and started sending in 10 a day for the past two weeks. Today was actually the last day that the entries could be postmarked and I stayed up last night til 2 am doing 20 of them to send out today.
Low and behold I got a call today saying that I was a winner of 4 VIP tickets to any You Gabba Gabba show of my choice. AND THESE ARE THE REAL VIP TICKETS! You would think this is worth a million dollars with how excited I am. This particular show is the closest one to where we live and it's about 2 hours away. My 20 month old AND my eight year old LOVED the show, and they are going to go NUTS to actually get to meet the characters from the show. We did get to see Plex ( the robot) from the show for a brief moment but not any of the others.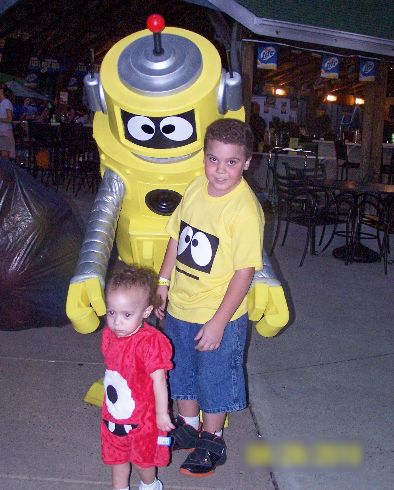 From Rachelle
I just started sweeping and while they are smaller wins it motivates me to keep going! These are my winnings for the last couple of months:
Summer 2010 – Coke Rewards points
Barilla pasta and sauce
Sobe jacket
thinkThin 2.1 oz nutrition bar from Ralph's
Sprite from Chuck E. Cheese
16 oz Monstor's energy drink from Ralph's
multiple buy one get one free from Sobe
Sobe t-shirt
3rd Place Prize of a One (1) Month FREE Supply of GEM Keep It Cool!
$20 Sears card from My Coke Rewards
Thanks for your site and email notifications – I'm planning to sign up for your secret site very soon!
From Kathy
I can't thank you enough for this website and all that you do posting these sweeps.  I have been sweeping "full time" for about a month now.  Playing all the instant win games every single night.
I've won little things Xox games, Starbucks cards, downloads, money off on orders.. but last night was the topper for me.  I've been laid off since May 2009 and having a hard time finding a new job in my field.  I wasn't going to play Openmysafe.com last night because I think the game is boring, but I did and at 2:01am my first safe crack try I was an instant $500 winner!!!
I can honestly say Christmas will be nice this year even if I haven't returned to work by then.
So once again thank you! for taking the time to create all those posts for the games… it really is appreciated.
From Paul
Sweetie (Wendy), Until recently I had been getting small wins Pizza Hut, Sobe, Nanny McPhee tickets and MyPoints 5 pts as well as a few others. I'm happy with small wins but yesterday I received a letter from The Crucial Upgrade your Life Sweepstakes and a Lisa Valentine. It said I was one of the ten winners to receive $500 Best Buy, Sports Authority, or Home depot gift card.
I couldn't believe it and wont be hundred percent until I receive my card but Im excited. I also went to see the Indians and they won! I entered a texting contest there picking mustard and he finished first in the hotdog race just his 23 third win of the season (unfortunatately not everyone won that one that picked correctly ) lol. A great day all in all.
Now I'll be checking my mailbox everyday. Good luck to all and win big!!
From Tina
Okay Wendy I'm totally FLOORED!!!!! For anyone who is skeptical about sweepstakes they need not be. I'm so happy that I found your site last October and things were slow for a bit but I tell you persistence and patience is all you need.
And of course to follow your instructions. As I just WON tickets to the Nationals Baseball game on September 24 with the VIP treatment (valued at $1,500 dollars), I then won tickets with the VIP treatment for the kids to go see Yo Gabba Gabba ($500.00), and NOW presented with this.
I ran across this sweepstakes on the Redskins site, my husband is a die hard Redskins fan. I read on the official rules on how to enter. There were 2 ways, having someone come out and give you an estimate on flooring or send in a 3 x 5 piece of paper with your information on it. I JUST sent this in like 2 weeks ago maybe not even that long ago. We got a call today and this email.
Congratulations!  You have been selected as the winning entrant in the Bring Empire in to Win sweepstakes for the September 19, 2010 Washington Redskins home game vs. The Houston Texans.  You have won two (2) Club level tickets, one (1) Orange parking pass, two (2) pre-game tailgate passes, and a tour of the Redskins press box for use by winner and one (1) guest, two (2) pre-game field passes, and two autographed jerseys.
There are 9 grand prizes to the games throughout the sweep and then a final prize at the end to travel with the team and stay at the same hotel and go to one of their away games (how cool would that be).
I am SOO excited and this is the first time I've seen my husband happy in a LONG time. If I could reach through this email and hug you I would. I was kidding when I told you how much you impacted my life with all that you do. I thank you, thank you, thank you!!
Do you have a winning story you want to share? Just email me and I will include it in an upcoming post [email protected]