Smartphone/Microsoft Tag Sweepstakes Have Arrived: You have your Twitter contests, Facebook promotions, blog giveaways, instant win games, text to win promotions, mail-in sweepstakes, online sweepstakes and now SMARTPHONE TAG SWEEPSTAKES!
These tagging sweepstakes are already showing up online, in magazines and have been around for a few months now. It will grow as the technology catches on and consumers start to learn how to use it. and figure out what it's for. For us it's a whole new way to enter sweepstakes on the run.
What is a Smartphone Tag Sweepstakes you ask?
First, a tag is a way for a company to track who sees their product, promotion, freebie, or enters their sweepstakes.  This technology helps companies find out who is interested in their products, what they are looking at, and what they could potentially buy in the future.
Other names for it are scan tag, snap tag, or mobile tag.
I came across this PDF from Microsoft that explains how companies can use this new tag feature to "leverage consumer devices to create promotional activities to help build brands, increase customer satisfaction, and drive sales." It's quite informative and doesn't take that long to read so you might want to read it.
Microsoft also has a whole site just on tagging here tag.microsoft.com/consumer/index.aspx
Take a Look at Tags
Here is a tag I found on a blog for an upcoming reward program.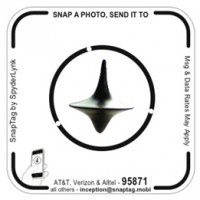 Here is an example of a Tag found in an online magazine for donating money to cancer research.
Note: If the magazine you find at the store has a free online version then try their first before making a trip out to the store.

Here is another type of tag.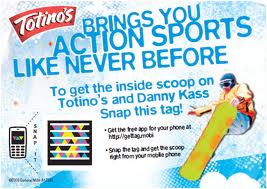 Here is an example of a Tag Sweepstakes on Facebook. You can even take a picture of the Tag you find on Facebook – pretty cool, huh.
How do you participate in Smartphone Tag Sweepstakes?
1) you will need a Smartphone (iPhone, Android, Blackberry, HTC, Windows phone, etc) with Internet and camera features to enter a Smartphone Tag sweepstakes. Visit gettag.mobi to view the list of phones that are capable using this app. To actually use the app you will need to go to that address using your Smartphone.
2) you will need the Microsoft Tag app (application). It's free.
3) Using your Smartphone, visit the page above and download the app for your particular phone.
4) When you find a tag that is related to a sweepstakes on a product, in a magazine, or online use the app on your Smartphone to take a picture of the tag, see below. You have to make sure you put it directly over the tag to get the right picture.
5) If you have done it right an entry form will appear. Fill it out and submit it.
I believe that sometimes you can send a link to your mobile phone from the Microsoft Tag website at www.microsoft.com/tag but I haven't tested it out.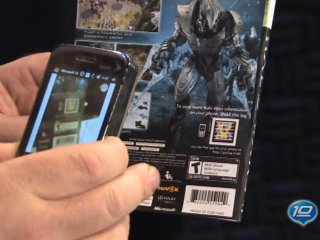 Here is an example of how  a sweepstakes tag will look in a magazine and what the entry form looks like on the Smartphone.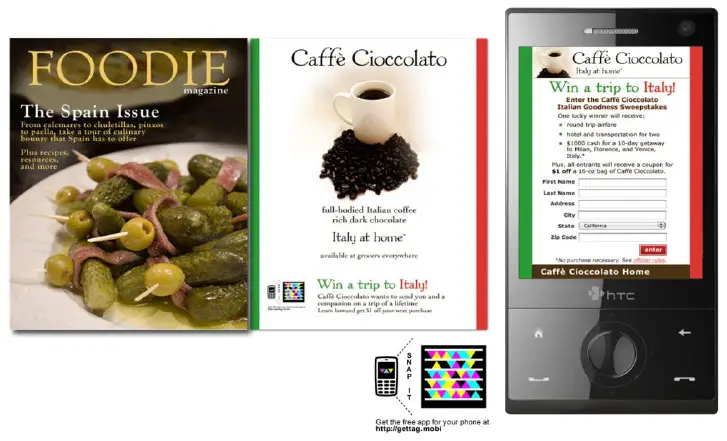 It's kind of like entering text to win sweepstakes but you will need a special phone to enter.
Where can I find Smartphone Tag Sweepstakes?
You should start seeing them on products in stores, in magazines, and online. They will probably be advertised through Twitter, Facebook, blogs, on TV, magazines and more. Keep watching because this is going to be the next, hot new technology to hit the promotion and marketing world.
I have also created a new Smartphone Tag Sweepstakes category under the Other Sweeps category so look for more to show up here as well.
Time to upgrade that old phone or win one soon so you can get in winning a whole new way!

Disclosure: this sweepstakes listing
may contain
an affiliate or tracking link but we
do not use referral links
. Read about our
policies
for more details.