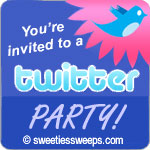 Celebrate with #Mamavation MONDAY 8-10pm EST, spon. by @EarthFootwear & @Subwayfreshbuzz, http://bit.ly/9IPxjG
Her special guests will be talking about how you can create and sustain a healthy lifestyle, we will be giving away a GRIP of fitness swag.
Date: October 18, 2010
Time: 5pm to 7pm PST (Mountain Standard Time: 6pm to 8pm, Central Standard Time: 7pm to 9pm, OR Eastern Standard Time: 8pm to 10pm)
RSVP: www.mamavation.com/2010/09/mamavation-twitter-party-launch.html
What you can win:
1. GRAND PRIZE: Interview with Jared from SUBWAY (2 winners)
2. Earth Footwear (3 pairs, 3 winners)
3. SUBWAY $25 Gift Card (2 winners)
4. EA SPORTS Active "More Workouts" (value $60, 3 sets, 3 winners)
5. Gruve (value $300, 3 sets, 3 winners)
6. SoCal Cleanse Organic Protein & Detox product (value $48, 2 winners)
7. Pete Cohen's Nutritional Program Membership (value $70, 3 winners)
8. Tracey Mallett Fitness DVDs (value $20, 2 DVDS, 2 winners)
9. Chefs Requested 100 Calorie Steak Packs (4 packages per winner, 3 winners)
Make sure to RSVP to the post AND show up that night because if you win and you aren't there, they draw again within 10 minutes. Support the Mamavation campaign and win in the process.
How to Participate in my Twitter party:
1. Sign up for a Twitter account at www.twitter.com
2. During a party visit www.tweetchat.com or www.tweetgrid.com (you can use either one. The one you use depends on your personal preference. I use Tweet Chat)
For Tweet Chat: Go to www.tweetchat.com and click Sign In at the top right. Sign into your Twitter account. Then type the hashtag (MarshallsTJMaxx) at the top of the page and click Go.
For Tweet Grid: Go to www.tweetgrid.com and click the Party tab and then fill in the party hashtag (MarshallsTJMaxx), the Twitter user name of the party host (sweetiessweeps), and your Twitter user name.
Need more help?
Watch a video on how to use Twitter
Watch a video on how to use Tweet Chat
Watch a video on how to use Tweet Grid