Everyday in October @eBay is giving away five $100 gift certificates through their Holiday Jump Start Sweepstakes.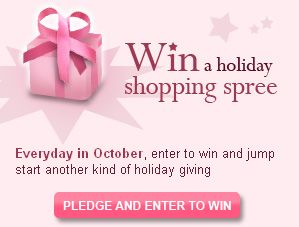 Eligibility: open to registered members of eBay.com who are legal residents of the fifty (50) United States and the District of Columbia, 18 years of age and older, and physically located and reside in the United States or District of Columbia at the time of entry
Entry Dates: October 1, 2010 and ends at 11:59:59 PM PT on October 31, 2010. There are thirty-one (31) Entry Days that have been divided into five (5) Weekly Periods, as follows:
Week # Begins Ends Drawing
Week 1: 10/1/10 – 12:00:00 AM 10/7/10 – 11:59:59 PM 10/8/10
Week 2: 10/8/10 – 12:00:00 AM 10/14/10 – 11:59:59 PM 10/15/10
Week 3: 10/15/10 – 12:00:00 AM 10/21/10 – 11:59:59 PM 10/22/10
Week 4: 10/22/10 – 12:00:00 AM 10/28/10 – 11:59:59 PM 10/29/10
Week 5: 10/29/10 – 12:00:00 AM 10/31/10 – 11:59:59 PM 11/1/10
All Times Pacific. Not All Weekly Periods are 7 Days Long.
Each Entry Day begins at 12:00:00 AM Pacific Time and ends the same day at 11:59:59 PM Pacific Time.
Enter: visit campaigns.ebay.com/givingworks
Eligible Participants will receive one sweepstakes entry by doing the following:
successful logon to Eligible Participant's eBay.com account
pledge to support a U.S. nonprofit organization by selecting one labeled "Pink" from the list provided
complete and submit required information found on the Promotion registration form including your PayPal account email address so we can fulfill your prize if you are selected as a winner.
Entry Limit: one entry per eligible person, per entry day. Entries received for a particular Entry Day do not roll-over into any days remaining in the Weekly Period nor does an entry roll-over into any subsequent Weekly Periods.
Prizes:
155 Sweepstakes Prizes (5 per day): $100 eBay Gift Certificate. eBay Gift Certificate prizes will be deposited into the winner's PayPal account. eBay Gift Certificates may not be transferred.
Daily Winner Drawings and Notifications: Five (5) Daily Winners will be selected in a random drawing from all eligible entries received for each Entry Day during the Promotion Period. Limit one (1) daily prize per person, family, or household during the Promotion Period. Winners will be notified by mail and or email.
Rules: campaigns.ebay.com/givingworks/rules
Sweeps Rating: Okay
Photo Credit: eBay