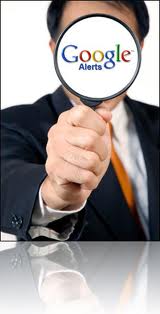 I learned some valuable at 4 am this morning, Google Alerts rock! You see, I got an email alerting me that my name was just published somewhere online. I have a Google Alert setup for "Wendy Limauge" and when someone uses my full name like that I get a Google alert email.
What was so good about this alert was that I found out I had won a $1,850 Prada handbag from Instyle.com. Today when I called about the win the young lady told me that my email had bounced and she was wondering how she was going to get in touch with me. Boy, was I happy I got that alert and called.
You can use Google alerts for just about anything you want to find or track online. When Google see that word or phrase it will alert you via email or text message. You should be careful what you put in the alert or you could end up with a ton of email. I only use it for specific things like my name or key phrases. It's a great way to find sweepstakes too.
Google Alerts is a free service offered by the Google search engine. You can use it to alert you for many keyword searches. In this post I am just showing you how to use it to find contests and sweepstakes.
Set up a Google Alert
Setting up a Google account is free.
Create a free Google Account:
1. If you don't have an Google account you need to make one at www.google.com and click at the top right to begin.
2. Fill out the registration form and Submit it at the bottom of the page.
3. To activate your new Google account, access the email account that you used to register and click on the link provided to verify your new account.
Setting up a Google Alert:
Updated on 9/3/10: The Google wording has changed so I updated my post with the correct information and screenshot.
1. Go to www.google.com
2. At the top right of the screen Sign In.
4. Click More from the drop-down list at the top of the page and then Even More.
Or go to the Google Products page directly through this link www.google.com/intl/en/options or directly to just the Google Alerts page here www.google.com/alerts?hl=en
5. Type in what you want to search for.
Here is where you will put the specific things you want to search by using keywords and phrases. In my case I had put my full name. My last name is pretty unique so I knew it would give me good results. If your name isn't unique you might not want to use it because you could get a lot of results that aren't related to you.
Here are some keyword and phrase examples for using Google Alerts to find sweepstakes:
sweepstakes
contests
blog contests
enter to win
sweepstakes +2010 -2009
"win a trip" +2010
6. Make sure the type is Everything.
7. Choose how many times you want to be alerted with this information. I put as-it-happens but that means you could get a lot of email.
8. Email length: 20 or 50 results. That would be the amount of references Google finds based on your search terms.
9. Type in your email address where you want to receive the alerts. (Note: this can be a different email address than the one you used to create the account)
9. Click Create Alert.
10. To activate your new Google Alert, access the email account that you put in and click on the link provided.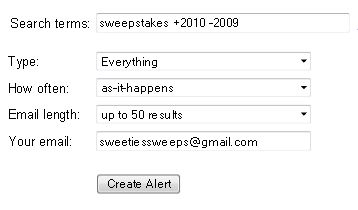 How To Modify Your Google Alerts:
1. Log back into your Google account at www.google.com
2. At the top right of the screen click My Account.
2. Click Alerts under My Products.
3. On the next page you will see the alerts you have set up. You can click Edit at the far right to change the search words, type, and how often you get emails.
4. Select an alert by clicking in the box next to one and then you can delete it if you like.