If you have been following my site for awhile you will see that I give each sweepstakes I post a rating. This is something I came up with to tell you what potential you have of winning a prize from that sweepstakes.
You will always find the rating at the bottom of the post so look for it next time you see a sweepstakes posted.
This rating system is something I created based on my years of experience entering sweepstakes and are just my opinion.

Since sweepstakes are just a small part of your life – a hobby for some, a part-time job for others as they try to supplement their income – you might like to know which sweepstakes have better odds, especially if you have a limited amount of time to enter.
In reality, you have a chance of winning a prize from ANY sweepstakes or instant win game so enter as many as you can starting with the most Winnable down to the Okay sweepstakes.
The sweepstakes that fit each rating will usually meet more than one of the criteria I have listed.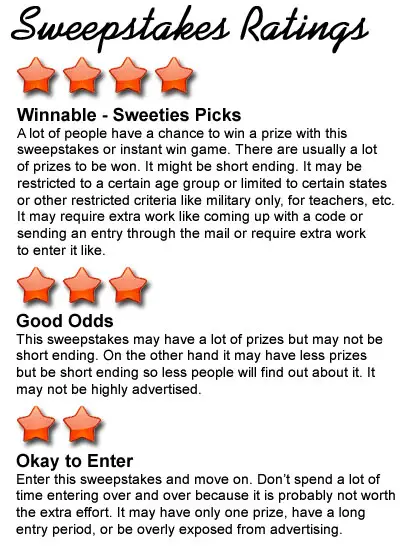 Sweeties Pick/Winnable
A winnable sweepstakes is one that has great odds for everyone who enters. It might have 1,000, 5,000, 10,000 or 50,000 prizes so many people have a chance to win a prize. It might be an Instant Win Game that gives out prizes every 5 minutes. If it is an Instant Win Game the remaining prizes may be given away in a Second Chance drawing. It might be short running and only last a day, a week, a month or 6 weeks.
Good Rating
This sweepstakes may have a lot of prizes but may not be short ending. On the other hand it may have less prizes but be short ending so less people will find out about it. It may not be highly advertised yet so entering early might be a better bet, especially if it is an instant win game. If it is an Instant Win Game the remaining prizes may be given away in a Second Chance drawing.
Okay Rating
Enter this sweepstakes and move on. Don't spend a lot of time entering over and over because it is probably not worth the extra effort. It may have only one prize, have a long entry period, or be overly exposed from too much advertising, both national and online.

It might be restricted to a certain age group or a limited amount of states. It might also have other restriction or require extra work like finding a one-time code that only one person can use, or sending away for a code. It might be a sweepstakes or instant win game that can only be won by buying a product to get a game ticket or code and the alternative method of entering is sending an entry in the mail. A winnable sweepstakes usually has only one way of entering it but may have a second chance drawing for leftover, unclaimed prizes.
Want to win even more cash and prizes?
We keep some of the best sweepstakes hidden on Sweeties Secret Sweeps.
Sweeties Secret Sweeps Offers You:
Local sweepstakes for your state
All sweepstakes from SweetiesSweeps.com days ahead of the public
500 to 700 Member-Only Nationals sweepstakes each month
QUICK ENDING sweeps that are only open for 1 to 3 weeks
A Favorites List to organize and enter from
A Mobile-friendly site for entering from your smartphone
A supportive sweepstakes community
Personalized help when you need it