The winners have been chosen and they are:
Rosemary OcalaRose…
Morgan mliphart…
Vickie vickieg55…
Michael mmd1az…
Mary doglady…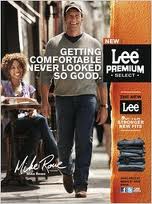 @LeeJeans and Mike Rowe of "Dirty Jobs" fame have teamed up to launch www.ShopPhobia.com, where men can learn to shop without fear or "without losing your manhood"
Take the Shop Phobie test and find out if you are NOT BAD, BAD, DIRE, or HOPELESS!
As a BONUS, once you take the challenge you will get a $5.00 coupon and free shipping to buy Lee jeans online.
To celebrate the launch of Shop Phobia, Lee Jeans wants to give FIVE Sweeties a pair of either Lee Premium Select jeans for men or Lee Slender Secret jeans for women just for sharing their most "shop phobic" moment.
Watch Mike Rowe's video and you will realize how different men and women are when it comes to shopping. Mike is too funny.

He asks,

"Do you know what is nice about trying on jeans? He says, NOTHING, there's nothing nice about trying on jeans.

He's too cute!
Men often think like Mike, that they are just about naked in this tiny room with white walls, hoping that no one sees them in their tighty whiteys, while women see shopping and trying clothes on as an emotional experience. I'm not completely sure that Mike is convinced that it is indeed okay to try his Lee jeans on in a dressing room in public – gotta love him.
One thing he is sure of though is that he likes Lee jeans. They were reasonably priced for him and it made his butt look good – lol
Lee jeans are durable and stylish, a pair of jeans a regular-guy can wear. There's nothing like a good fitting pair of jeans.
Last December I actually won a pair of Lee Slender Secret jeans from the Lees Facebook page. And, I did a review of them. I have always loved and worn Lee jeans for as long as I can remember.
The Prize:
Five winners will receive: a pair of Lee jeans – Lee Premium Select jeans for men or Lee Slender Secret jeans for women
How to Enter: two ways
Leave a comment below answering this question, Like Mike Rowe, what is your most "shop phobic" moment? – 1 entry per person
Post this tweet on Twitter– 1 per person per day
@SweetiesSweeps @LeeJeans @mikeroweworks are giving you the chance to win a pair of Lee jeans! RT & leave a comment here http://ow.ly/2Bcdx
NEW! If you don't want to copy and paste, CLICK HERE TO SEND THE TWEET! Try it!
Giveaway Rules: This giveaway is only open to residents of the United States who are 18 years of age or older. Ends on September 19, 2010, at midnight EST. The email addresses that are collected for this giveaway will only be used for the purpose of contacting the winner and will never be given out to anyone nor sold. The winners will be randomly chosen and contacted via email. The winners will have 72 hours to respond to my email. Only one winner per household. Please make sure you check your junk mail folder. Winners will also be posted on Sweeties Sweeps.
Sponsor a Sweeties Giveaway and effectively promote your business, brand or product: Click here to find out how.
FTC Disclaimer: All opinions are 100% mine and I was not influenced by Lee Jeans to write this post. I did not receive payment to host this giveaway but I did receive a pair of Lees Premium Select jeans for Greg.