Play now for your chance to win gift cards instantly.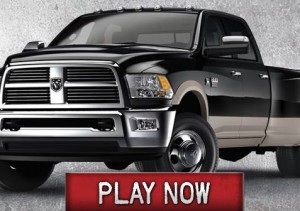 Eligibility: Open only to legal residents of the United States (and D.C.) who are at least eighteen (18) years-old at the time of entry and who have reached the age of majority in the state in which they reside.
Entry Dates: Begins on June 29, 2010 and ends on September 30 2010, at 11:59 p.m. ET.
How to enter: Visit www.ramgauntlet.com and click "Play Now" if you have not already registered, complete and submit the registration form.
Entry Limit: One (1) Game Play per registered user per day of the Promotion Period with a maximum of 95 additional Game Plays for site login during the Promotion Period.
The maximum number of Entries that can be earned for inviting friends to the Site by either the Invite a Friend email, the Post It tool, the Facebook invite friends tool or Facebook wall posts and newsfeeds is Fifty (50) Entries per registered user. Two Hundred and Forty Six (246) Game Plays per person during the Promotion Period regardless of method of entry.
INVITE A FRIEND:
By Email: You may use the Invite Friends email tool to submit the names and email addresses of a total of up to six unique friends at a time. You will obtain Five (5) Entries for each unique friend eligible to enter the Promotion who registers for the Promotion.
By Post-It using your personal link: To retrieve your personal link, click on the "Invite a Friend" link and locate the personal link or personal banner on this page. For each unique, eligible person who registers for the Promotion via your personal link during the Promotion Period you will receive five (5) additional Entries.
By Facebook: You may also invite friends using the Facebook invite friend's tool by clicking on the "Try It" button in the Facebook portion of the Invite Friends page. For each unique person who registers through either the invites you send using the Facebook Invite Friends tool or through prompted posts on your Facebook wall or newsfeeds you will receive five (5) Entries.
By Twitter: If you are a Twitter user with a valid Twitter account and your friends register to the promotion via your twitter feed, you will receive five (5) entries per registered friend.
SIGN UP TO RECEIVE COMMUNICATIONS FROM SPONSOR. You will receive Three (3) Game Plays if you sign up to receive communications from the Sponsor.
SEARCH THE TRUCK. The truck can be searched for Game plays 6 times. Each time there will be a different number of game plays available to be found (2, 4, 8, 16, 32, 32). Once all 94 game plays have been found there will be no more game plays to be found in the truck search.
SURVEY. You will receive Three (3) Game Plays for completing the survey located on both the registration page as well as the, earn more entries page.
Prizes:
(1) Grand Prize: A One Thousand Dollar ($1,000) prepaid Master Card Gift Card.
Instant Win Prizes:
(240): Twenty Five Dollar ($25) Gander Gift card
(80): Fifty Dollar ($50) Gander Gift card
Drawing Date: On or about October 1, 2010.
Official rules: www.ramgauntlet.com/index.php?tsrc=rules
Sweeps Rating: Okay
Photo Credit: Ram Gauntlet