The winner of the Proflowers prize is:
@proflowers This past week I was given the opportunity to review a Proflowers item by choosing from a selection on the Proflowers website. I chose the Juniper Bonsai, well, I let my husband, Greg choose what he wanted and that is what he picked. He loves plants as much as I do and we both figured he could use this as a project over the winter – which is coming faster than I would like. Wait, didn't Summer just start?
Once we placed our order we just waited for our plant to arrive. It came fast enough and was delivered by Fedex.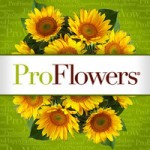 I was surprised to see that Proflowers uses Eco-friendly packaging which is nice to see. On the outside of the box is a Gift Message so the person you are sending your flower arrangement, gift basket, or plant to will be able to read your greeting right away.
Inside you will also be surprised at how well your item is packaged. Proflowers had a special insert made just for this plant. It was in two parts. The first part kept the plant secured and the second part protected the plant itself. Very clever!
Once unpackaged I found that the pot was wrapped to keep the soil intact. Inside was an instruction booklet, which my husband read, word for word. Did you know that a Bonsai isn't a plant? It is a method of pruning a plant. I never knew that. You can take lots of different plants and turn them into Bonsai trees. Proflowers has Juniper, Gardenia, and Azalea Bonsai plants.
The Bonsai plant itself was very healthy and in perfect condition and it came in a super nice glazed ceramic planter. We look forward to our new plant project.
Skip down to find out how you can win from Proflowers
If you want to see a picture larger, just click on it to view in a new window.
How to Enter: two ways

Visit the Proflowers website at www.proflowers.com
Leave a comment below and tell me the name of the item you would pick if you are chosen the winner. – 1 entry per person
Post this tweet on Twitter (copy and paste). – 1 per person per day
@SweetiesSweeps and @proflowers are giving you a chance to win flowers, a plant or gift basket here http://ow.ly/29MJX #sweetiesflowers
Prizes: There will be 1 winner. One winner will be picked from the combined comments below and from Twitter entries. That winner will receive a Proflowers floral arrangement, plant or gift basket of their choice from the Proflowers website, up to $60.00.
Giveaway Rules: This giveaway is only open to residents of the United States who are 18 years of age or older. Ends on July 19, 2010, at midnight EST. The email addresses that are collected for this giveaway will only be used for the purpose of contacting the winner and will never be given out to anyone nor sold. The winner will be randomly chosen and contacted via email. The winner will have 72 hours to respond to my email. Only one winner per household. Please make sure you check your junk mail folder. Winner will also be posted on Sweeties Sweeps.
Sponsor a Sweeties Giveaway and effectively promote your business, brand or product: Click here to find out how.
FTC Disclaimer: All opinions are 100% mine and I was not influenced by Proflower to write this post. I received the Bonsai tree to review. Proflowers will provide the prize to the winner.