This video is part of my video tutorial series to teach you all about sweepstakes. This particular video is on mail-in sweepstakes. In this video you will learn what supplies you need, how to write out an entry, an envelope and a postcard. I also talk about what to do and not to do so you don't get yourself disqualified.
Mail-in Sweepstakes Basics from Wendy Limauge on Vimeo.
Here is a recap of the video tutorial.
No Mechanically Reproduced Entries Allowed
When you see a line like this in the official rules, "no Mechanically reproduced entries allowed", they are talking about making up one entry and then photocopying it or reproducing it in any other way besides hand writing each one individually. This does not mean you can't pay someone to write your name, address, phone, email, etc. on the papers or cards. There are actually hand writing services in the "sweepstakes world" where a person will charge you a certain amount of money to fill out your mail-in entries for you.
Handwritten Entries/Envelopes
When a sweepstakes tells you in the official rules that your entry must be hand written they are talking about the paper or card you write your name, address, phone, etc. on. Sometimes they will also tell you to hand-print your envelope too. This usually means you are to hand-print the address you are sending the entry to and not necessarily your return address. I use a return address label. There is no way to know if not using a return address will disqualify you but in my opinion your return address is not part of your entry.
Even though a sweepstakes might not tell you to hand-print the address you are sending the sweepstakes to I suggest you do it just in case. Once again, there is no proof one way or the other if printed the envelopes on a printer would disqualify you. If they indicate the envelope must be hand-printed then yes, it would disqualify you if you print it.
Filling out the Envelope Correctly
If a sweepstakes requires that you put a date, your state, or some other information on the envelope make sure you include it. Make sure you read the rules to find out exactly what is required.
Write the sweepstakes address exactly as it is given in the official rules. If they put commas in between the lines do not include the commas. Put each part of the address on individual lines as shown below. They are just doing that for the official rules. You need to put it similar to this:
Name of Sweepstakes
Street Address
City, State, Zip
If the sweepstakes address has a copyright, trademark, or registered mark be cause to include it. If words are CAPITALIZED then write them that way. Always write out the exact address as given in the official rules.
Write Neatly and Legibly
Always print legibly. Do not write in cursive if at all possible. Try to print. Try to remember what you did in kindergarten and make your printing straight and neat. If they can't read your envelope or entry you may be disqualified. Spell words correctly and when you fill out your phone number always include your area code.
Sealed Envelopes
I have been seeing this line more and more in the official rules, "all mail-in entries, including addressing, must be hand written, mailed separately in a sealed envelope and have sufficient postage" because companies are getting empty envelopes sent to them or getting them sent with no postage. I put a piece of tape over the point on the back of the envelope for every entry I send out. Sometimes the glue on the envelope fails and you don't want the judging agency to receive an envelope from you that is empty.
Fill out the paper or card entry properly
I usually fill my information out on the long side of the paper or card. Take a look at the official rules for the sweepstakes you are entering and see what they would like you to include on your entry. If they want your name they want your first and last name. Address is your street address, city, state and zip code. Many times sweepstakes will not accept PO Box addresses so read the rules. I believe PMB address are not considered PO Box addresses.
When they ask for a telephone number you need to include the area code. You can write it in a multiple of ways. Pick the one you like the best.
(000) 000-0000
000-000-0000
Your birthdate is usually written like this: 00/00/0000 or 00/00/00
Make sure to write out your entire email address like this: [email protected] using the @ symbol and do not put AT or [AT] like you might if you were entering a blog giveaway.
Sometimes you are required to write a sentence that is given in the official rules. You will need to write smaller to get all of your information on the paper or card. You can put that sentence on the other side if you don't have enough room.
Can I put more than one entry into an envelope?
Most of the time, no. If the official rules do not tell you how many entries you can put in an envelope then it is always just one. If they allow you to put more than one in an envelope they will tell you in the official rules.
What not to put on the envelope
DO NOT add anything "cute" to the address. It will NOT help your entry to get picked. It might even annoy the judge who could disqualify you.
Example of what not to do:
Pick Me Name of Sweepstakes
Street Address
City, State, Zip
Postcard Entries
Some mail-in sweepstakes require that you send your entry using a postcard. Remember, sending a postcard through the mail is cheaper. A postcard stamp costs 28¢ (current as of 03/09). However, if your postcard is larger than 5″ x 7″ it will require a first class stamp instead.
Standard postcard sizes include:
USPS standard size: 4-1/4″ x 6″
Smallest size that can go through the postal system: 3-1/2″ x 5″
Common postcard size sold in stores: 4-1/2″ x 6-1/2″
If a sweepstakes tells you to send in a postcard that is 3″ x 5″ in size you have two options. This size cannot go through the postal system because it is too small and will be rejected. You can put your 3″ x 5″ card in an envelope or mail a larger postcard instead.
Does a postcard go into an envelope?
A postcard never goes inside of an envelope.
Filling out the Postcard
When you enter a sweepstakes using a postcard I suggest that you turn your postcard to the right so that the short side is facing up when you go to write your own information. When you turn your postcard back around to write the mailing address your information should appear sideways on the postcard. The reason I write the info this way is so that the postcard does not have the chance of getting returned to me. If you write your address at the top left where you would usually put the message it has a chance of getting sent back to you if the post office machines read it incorrectly. That has happened to me a few times so now I turn my postcard and write my info sideways. You can also turn your postcard upside down and write it that way.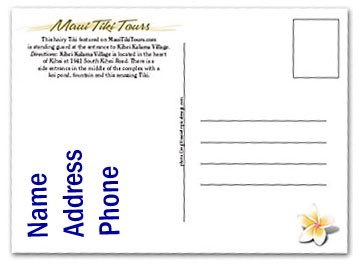 When to mail sweepstakes entries
There are several schools of thought when it comes to when you should mail your entries out. Some seem to think that sending them all at once near the end of the sweepstakes is good while others say to space out your entries over the life of the sweepstakes. I tend to send mine about 3 weeks before the sweepstakes is over, spacing them out every few days.
I really don't think it matters though too much. If they are going in mailbags with some entries being picked to go in a spinner or larger container then yes, space your entries out so you can get entries in as many mailbags as possible. If they are all going in a computer database it doesn't really matter. Since there is no way you can know how winners are picked you just need to come up with a system that works for you.
How many entries should you send?
Should you enter 1 time, 10 times, or 100 times? Some people enter 1,000 times for a sweepstakes. Of course, the first thing to consider is the cost of the stamps. If the lower prizes are worth $10 do you want to spend almost that much to send out 10 or 20 entries? I have seen sweepstakes where someone entered once and someone entered 1,000 times and neither won. Another sweepstakes and they both won. Of course, the more entries would seem to indicate the better a chance you have of winning a prize. It is a personal thing that you have to decide for yourself.
For me, I only enter mail-in sweepstakes that I consider to have good odds and then I usually send in 10 entries for that sweepstakes.
Getting organized
Some sweepers have entries written out for six months and have them all organized in a box, shelf, envelope, or drawer. If you have the time, write out all of the entries you are going to be sending for a sweepstakes and then write the dates that you want to mail them out on where the stamp goes. That way the stamp will cover the writing when you are ready to mail them. Then put them in order based on the dates on a shelf or in an envelope. If you work on enough sweepstakes you will then have a whole stack that you can put in a box. Each day you just go to your stash and mail out the ones with today's date.
SUPPLIES
I would suggest buying some supplies so you will be ready when you want to enter mail-in sweepstakes.
3×5 Paper Versus 3×5 Cards
A paper is not a card, plain and simple. A paper entry is the paper you could use in your printer. A card entry is an unlined index card. If a sweepstakes say use a paper then don't use a card and vice versa.
Do you have to cut your own papers and cards? No. You can buy a pack of 100 index cards at Walmart for around 44 cent. Make sure you get the unlined white cards. You can get a package of 1,000 white 3×5 papers at Staples for around $6.00. Those will last you a year or more depending on how many entries you are doing.
You can buy both 3×5 papers and 3x5cards at Staples.com. They sell the blank, white 3×5 papers in package of 1,200 here and a package of 500 blank, unlined white 3×5 cards here.
Can you used colored cards or papers?
I really don't know. The sweepstakes I enter never say what color the paper or card has to be in the official rules. So, to be on the safe side I always use white. I try to keep things simple. The color of your entry is not going to help you win and you don't know if you will be disqualified for using color so in my opinion just stick with white.
Where can I get 3-1/2 x 5″ papers and cards?
There is no place that I know of that sells this size card or paper. I usually cut my own. Remember, if they say use paper cut them from the paper you would use in your printer. If they say card then use cardstock. I use 110 lb cardstock but you probably could use 65 lb as well and still have it considered a card.
What do I send if they ask for a 3×5 postcard?
A 3″ x 5″ postcard is too small to go through the postal service. The smallest size postcard that will go through the system is 3-1/2″ x 5-1/2″ in size.
The people running sweepstakes don't always know postal rules so you will see this size asked for a lot in the rules. There are only two things you can do if this happens. You can send a larger size postcard and hope they meant for you to send a postcard or you can send a 3×5 card and put it in an envelope.
Do I have to use return address labels on the envelopes?
Most of the time I use a printed return address label. I do this in case the sweepstakes entry gets sent back for some reason like the address was wrong or they closed the box early. If I don't put an address label on them I might send more and waste stamps if the address is wrong.
I make my own return address labels and sometimes use the free ones I get in the mail from various companies. You can also get them from Vista Print for free (just pay shipping). If you want to make them you can use the smallest size labels they make and buy one box of 2,000 labels that has 25 sheets to the box. You will need Avery #75115 but you don't have to buy the Avery brand. Find a cheaper brand and it will work just as well.
If you don't want to spend the money just write out your name and address instead of using return address labels.
Where can I get postcards?
I get free postcards from Vista Print. You can get 100 standard-size postcards for free (just pay shipping). They are great quality. You can also find postcards in tourist areas for free if you look around. Another way to get free postcards is to make them yourself by cutting them out from a cereal, cracker, or similar box. Make sure the side you are cutting doesn't have any writing on the back. If the backside is kind of dark you might need to use a Sharpie to write on it. When making your own postcards use a ruler and measure out at least 4″ x 6″ in size to get a pretty standard size postcard.
All content in Copyright of Sweeties Sweeps and my not be reproduced in anyway. Sweeties Sweeps, Sweeties Picks, Sweeties Sweeping 101, and "win what you can't afford" are all Trademarks of Sweetiessweeps.com

Disclosure: this sweepstakes listing
may contain
an affiliate or tracking link but we
do not use referral links
. Read about our
policies
for more details.