There sure doesn't seem to be a short supply of winners these days. If you're not winning right now, just wait a minute and you're luck will change. Just don't give up before you have that chance to win.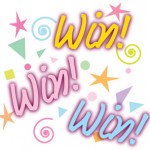 If you are looking for even more sweepstakes to enter visit my Sweepstakes Daily Digest. These are sweepstakes that I do not post on this site because they are not considered as winnable. I just post a summary of the rules and prizes and give you the link to enter, nothing pretty. I also posted sweepstakes on my Facebook Fan page that aren't always posted on either site.
If you don't know how to win join my free Sweeping 101 e-Course to learn how. Sweeping 101 members also receive exclusive sweepstakes from time to time that will help to win even more prizes.
Remember, If you have a win please EMAIL it to me. Thanks!
Here are some new winners from the Secret site:
Many readers are finding the $25 yearly fee for the secret site is definitely worth the cost and while I can't promise there will be a plethora (don't you just love that word) of sweepstakes for your state you should definitely win your subscription fee back and then some. Click here for more details.
I have won several items off of SSS site since my last big win of a trip to Jamaica,  I have won 4 movie passes, tickets to a comedy show and today I won a 19″ flat screen TV!

Thank you!!!!!

Tim
Hi Wendy,

This is my first win from your SSS site and my first win via text messaging. It is from the text messaging sweepstakes. Out of my options I choose the Ultra Tech Compression Bag. I have included a screen shot of the prizes I got to choose from. All person information has been removed. Thought you might be interested to hear that my membership has finally been paid for by my win. Thank you so much for all your hard work this is my new hobby and for once it's a hobby that is free and you can't beat that.

Thanks again,

Shelly
These winners are from the same sweepstakes.

I got a win from this in the mail!!!! The 10 ppv movies and a free haircut!!!!!! keeping my fingers crossed for the HDTV!

Crystal

I got a win on this, too! 🙂 My game is May 9th. Would love the tv.

airheaded1
All of these winners are from the same sweepstakes.

I just got a certified letter in the mail saying hubby won the netbook!  I am so excited!

Kim

I won too. and so did my Hubby. We just sent our affidavit back.

Amanda

I WON I WON WOO HOO.  I didn't give up hope and I got my certified letter today.  I'm going to give it to my son for his birthday in July.  Thanks sooooo much Sweetie love love love Secret Sweeps!!!

Chalyn
I just got my notice and my certificate of eligibility today….runner up prize $200.00 allow 6 to 8 wks for delivery!  Want to thank you so much for the hard work ya'll put into this site.  I'd  know I would never have entered this one if it hadn't been posted on here.  Thanks again

Gloria
From Sweeties Sweeps Readers
Hi Wendy!

The other day I emailed you about winning the Blackberry (I emailed you to make sure the email I recieved was real) Well, today I recieved a envelope in the mail with a Syringe pen I won from the CSI instant win AND a notification with a $100 Dick's Sporting Goods gift card! It was a ESPN sweeps that ened in February that I remember entering but didn't know until I got the mail today that I had won a first prize! Still waiting for that trip but these wins are very encouraging! Thanks for turning me into a die hard sweeper!!!

Julie M
Hi

I just wanted to let you know that I recently got back from a trip to Las Vegas with my husband, that I won on the SSS site. It was through the Men of a Certain Age Sweepstakes and the ARV of the trip was $5000! I also won a $500 visa gift card on the mycoke rewards website as well, which came in handy as spending money in Vegas!

Thanks

Laurie
$250 Grocery Store Gift Card Win! I can't remember how I found out about this contest BUT I'm assuming it was through you! It was for a gift card from Chilean Avocados

Celia
They may not be much, but after weeks of playing the sweeps and not winning anything, I'm quite excited! 🙂 In the past two days, I've won a $5 credit from Kroger and a mini soccer ball from Budweiser! Thanks for all the great sweeps info!

Megan
Hi,

Thank you for posting this contest. I just came in from the mail box. To my surprise and delight, I won a set of 2 George Killians Pint glasses.

Will
I cant believe it I just won $250 from bare Escentuals! I'm so excited!!!!!

I also got an email saying I won Sony Noise Cancelling head phones in the Marlboro flavor break sweep!!

Thank you Wendy if it wasn't for your site i would have never even thought about entering sweepstakes,

Crystal
Hi

Just wanted to let you know that I won a PSP to go this morning in the Pepsi promotion. I was really surprised since they are only giving 45 away.

Thanks so much for all the work you do on the site.

Kay
Hi Wendy,

I'm just writing to say that I got my laptop today, there was a huge delay in shipping on my end due to our mail system here. I suggested to everyone on the forum to save their confirmation emails if they do win something, just in case. Thank you so much for putting up these sweepstakes 🙂 So far I've gotten this notebook and bare minerals makeup, it really helps cause I'm a single mother of twins and just last week got a job that I'll start the 22nd. Money has been extremely tight from my medical bills (I have systemic lupus) so its a great feeling to get free "rewards" and fun stuff especially when you know you'll never be able to afford them yourself. Hope you have a fantastic weekend and thank you for the follow up.

Take care,

Kylie
Haven't sent anything to you in a while & when I looked at my list could hardly believe everything I've won this year!! I can't thank you enough for my new hobby! Hubby now sends me downstairs to "go win stuff" since he loves the free date nights too.

March
2 silicone basting brushes – Kikkoman
3 ceramic spoon rests – Kikkoman
Flip Mino Video Camera – local radio station
mini soccer ball – Budweiser
Papa John's Pizza w/2 Cokes – Coke Rewards
32GB iPod (3G) with Bose docking station – local radio station
$10 Gift Card – Dollar General
$10 Gift Certificate – Family Dollar
2 $25 Visa Cards – Huggies
$5 Discount Code – Sears Hometown
$10 Gift Certificate – Restaurants.com

February
$25 Burger King GC – local radio station
$50 Gift Card – Elephant Bar Restaurant
Ultra Lift Cream – Garnier Nutritioniste

January
$5 – Honey Nut Cheerios
Prometheus Trojan lighter – Black & Mild
$5 Discover GC – General Mills
$25 Master Card GC – Coke
2 Movie Tickets – Coke
$25 Gas GC – Phillips 66
$50 coupons +$200 Visa Card – Hills Science Diet

Thank you for all you do!!!

Cathy
Hi my name is Coleen I have been going to your site for about a year. I have had a few small wins but this past Monday march 22, 2010 FedEx came to my door with a letter and paperwork to be motorized and returned because i was chosen as a winner in the Huggies enjoy the ride sweepstakes. My prize is a Sony Vaio laptop retail value said $1000.00.

I could not believe it. I am so excited I can't wait till I get the laptop, the letter said I should receive it within 6 to 10 weeks. I just want to thank you for running a great site and to tell other's don't give up you may win when you least expect it.

Thanks again,

Coleen
O.K., so I just found your website YESTERDAY, and TODAY I won a $5 Subway gift card! I'm hooked!

K.S.
Hi Wendy,

I just wanted to share my biggest win since I started in this new hobby…part time job 🙂

I received this email:

Dear Johnny:

CONGRATULATIONS! We have exciting news for you! Your entry in the Vivemejor's Free Month of Groceries Sweepstakes has been selected as a Grand Prize winner. It is our pleasure to inform you that you have won:

A $500 GIFT CARD REDEEMABLE AT A GROCERY STORE MUTUALLY AGREED UPON BY WINNER AND SPONSOR, AND A GIFT-BAG FILLED WITH SPONSOR-SELECTED UNILEVER PRODUCTS.

We are running on a really tight budget and this win really is a blessing.

Thank you Wendy for your continued motivation and posts. Winners never quit!!! 🙂

Johnny…aka ~13NENE13~
Hi Sweetie!

My recent wins are:

* $10 Restaurant.com gift certificate
* box of granola bars from Nature Valley Get Some Nature
* Papa Johns Pizza & cokes from Mycokerewards
* $15 Best Buy Gift Card from Mycokerewards
* $5 Subway gift card
* $10 prize level from Extra Gum 3PM Smackdown
* mini soccer ball from Budweiser
* free movie rental from Pepsi Play & Go
* Flip MinoHD Camcorder from At&t Explore, Experience & Win worth $199! My biggest win yet! My kids are so excited to use this for Youtube videos.

Thanks a bunch!

Stephanie
Sweetie,

I won as much in March as I had in the previous 8 months of sweeping. In addition to the $500 progressive win I also won:

2 lower level tickets to an Atlanta Hawks game
6 tickets to the Fox summer film fest
Kroger IWG (twice)
$10 dollars from a Dollar general fresh start sweeps
kikkoman several times (2 tongs, spoon rest and several coupons)
3 song downloads from Mike's Hard Lemonade
A set of wooden spoons from OXO

Like a lot of others, I find my wins come in groups so here's to hoping for winning days ! Thanks

Frank
Hi Wendy! These are my sweeps wins from mid-January until now:

1/26/10-Vintage Red Man sign from Red Man Chew sweepstakes (ARV 19.95)

February wins

2/8/10-Campus Circle a prize pack for The Young Victoria.

March wins

3/4/10-Huggies win-$25 Barnes and Noble gift card

3/7/10-Huggies win-Free pack of Huggies Pull-ups

3/7/10-Huggies win-Free song download

3/14/10-Coke rewards win-$15 Best Buy gift card

3/20/10-Mom won a free pack of Dentyne gum from their sweeps

3/21/10-$5 gift code from Sears to be used on sears.com

3/23/10-Spoon rest from Kikkoman sweeps instant win

3/25/10-Surprise win!! Pretty 1.0 fl. Oz. perfume by Elizabeth Arden from ELLE magazine ($39 value)

3/26/10-Surprise win! Tekken 6 video game for X-box 360 and Tekken 6 Tap out t-shirt 2nd place win from Footlocker Tekken 6 Gamers Delight sweeps ($74.99 value)

3/26/10-Mom won a spoon rest from Kikkoman sweeps instant win

4/1/10-Weber Smokey Gold grill from Marlboro sweeps ($39 value)

Wow! I am really cleaning up in March! Thanks, all to you and your wonderful site and all the hard work that you do.

Rachel M.
Hi Sweetie,

The whole month of March & all I won was a $10 Restaurant.com gift certificate! Oh well–my hubby & I will enjoy using it & things are sure to pick up soon!

Thanks,

Shannon
Sweetie,

I have had a pretty rough year with sweeps… I have won little prizes but nothing of significance. I was introduced to twitter through our chatroom peeps. I started twittering abouts 3 weeks ago.. This morning i had my biggest prize.. I won an iPad!! This was from @susannichole. During a twitter party on Monday I won a Swiss Legend watch worth $495.00 from a Topsy Twitter Party.. Twitter has also given me smaller prizes also. This has been a fun way to win prizes.

Thanks for all you do

Danielle (pontowd)

Disclosure: this sweepstakes listing
may contain
an affiliate or tracking link but we
do not use referral links
. Read about our
policies
for more details.