You probably see @RewardTV advertised on my site a lot. I thought I would tell you what Reward TV is all about and how you can win cash and other prizes.
You must be at least 13 years of age and a legal resident of the United States to become a Member of RewardTV.
What is RewardTV, and how does it work?
As its name would suggest, RewardTV is a website that rewards you for watching TV. For each prime-time program on a major network — NBC, CBS, ABC, FOX, UPN, WB — RewardTV creates a 10-question quiz. You earn points for each correct answer in each quiz and you can take up to 5 quizzes for any particular evening's television lineup. The quizzes are only active until midnight the day after the show aired, so you must go to the site regularly if you want to earn points.
The quizzes contain two types of questions:
questions about the show
questions about the advertisements that aired during the show
TV Trivia Games
Every night TV Trivia Games will be posted on the RewardTV site for most regularly-scheduled primetime broadcast network television shows and some regularly-scheduled primetime cable network television shows, including TV movies, sporting events, gameshows and other broadcast and cable programs available nationwide approximately three to four hours after the end of a Primetime Show's original broadcast in the Eastern Standard Time Zone (EST) and will remain live and playable until midnight of the following day
You may play up to five (5) TV Trivia Games for any evening's Primetime Shows.
How to play:
Visit

www.rewardtv.com

and sign in using your email address and password.
Click on the "Play" button.
Under "Active Shows," click on a Primetime Show which you watched during the preceding 19-27 hours, depending on the time zone in which you reside.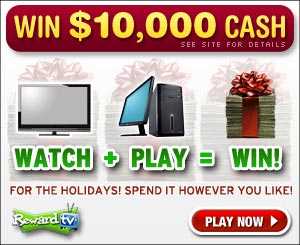 Earning Points
For each correct answer you submit for a question about a Primetime Show, you will receive 100 Points. If you answer the first commercial advertising question correctly, you will receive 100 Points and advance to the Bonus Round. For each correct answer you submit for a question in the Bonus Round, you will receive 100 Points. Points will not be deducted for incorrect answers. In order to complete a Trivia Game, you must answer all questions in sequential order.
Points in your Account may be redeemed for available products and/or services listed in the Rewards Catalog.
Sweepstakes
RewardTV has ongoing sweepstakes. To participate you fill out surveys on their site. New sweepstakes are posted all of the time, some weekly. You can also use your Points to buy entries into these Sweepstakes.