Many major magazines run sweepstakes all of the time. Some run new giveaways every week while other post new ones each month. I don't usually post the magazine sweepstakes too much on this site because they change so often and that makes it hard to keep up with.
So instead, I decided to start a thread on what magazines have ongoing sweepstakes for you to enter. If you know of a magazine that offers giveaways all of the time please leave a comment below and I will update this post. I will keep it linked on the sidebar with the Huggies and Pampers list.
Warning: When entering magazine sweepstakes you will want to watch out because they can be tricky and you will end up signing up for a subscription to that magazine. Some magazine sweepstakes will have a link on their main entry form that you need to click to bring up an alternative "no purchase necessary" entry form. It will look similar to this.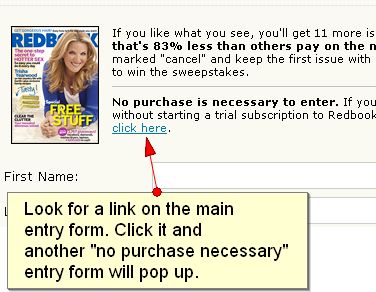 Magazines That Offer Ongoing Sweepstakes
ALL YOU Magazine: www.allyou.com/sweepstakes-giveaways
Allure Magazine: www.allure.com/freestuff
Cosmopolitan Magazine: www.cosmopolitan.com/forums-freebies/giveaway
Elle Magazine: www.elle.com/Sweepstakes
Elle Decor: www.elledecor.com/home-sweepstakes
Elle Extra: www.elleextra.com/sweepstakes.html
Family Circle Magazine: www.familycircle.com/fc/freeoffers
Glamour Magazine: www.glamour.com/magazine/sweeps/archive
Good Housekeeping Magazine: www.goodhousekeeping.com/win
Harpers Bazaar Magazine: www.harpersbazaar.com/giveaways
House Beautiful Magazine: www.housebeautiful.com
In Touch Weekly Magazine: winit.intouchweekly.com/itw
InStyle Magazine: search.instyle.com/sweepstakes
J-14 Magazine: winit.j-14.com
Ladies Home Journal Magazine: win.lhj.com
Life and Style Magazine: winit.lifeandstylemag.com/las
Lucky Magazine: www.luckymag.com/breaks/luckysweeps
O (Oprah) Magazine: www.omagazine.info/win_it.asp
Parents Magazine: www.parents.com/parents-magazine/sweepstakes
Parenting Magazine: www.parenting.com/Contests-and-Giveaways
Reader's Digest Magazine: www.rd.com/free-sweepstakes-win-cash-and-prizes
Marie Claire Magazine: www.marieclaire.com/fun/giveaways
Martha Stewart Magazines (Body + Soul, Martha Stewart Living, Everyday Food): www.marthastewart.com/sweepstakes
Rachael Ray Magazine: Rachael Ray has way too many so they don't have them all on one page – www.rachaelraymag.com scroll down to the bottom and you will see the purple section on the right.
Redbook Magazine: www.redbookmag.com/online-sweepstakes
Self Magazine: www.self.com (look for a list of giveaway somewhere on the homepage)
Seventeen Magazine: www.seventeen.com/fun-stuff/freebies
Shape Magazine: www.shape.com/sweeps_and_promos/sweepstakes
Viv Magazine: www.vivmag.com/giveaways
W Desires Magazine: www.wdesires.com/sweepstakes
Woman's Day Magazine: www.womansday.com/Lifestyle/Giveaways.html
Woman's Day Diary: wdextras.womansday.com/contests.html
Woman's World Magazine: winit.womansworldmag.com
Each one of these magazines has from 10 to 100 sweepstakes going at any one time. You could literally just spend all of your "sweeping" time entering magazine sweepstakes. I am not sure how "winnable" they are because all magazine sweepstakes are posted on every sweepstakes site on the web, on sweeps email lists, and everyone who gets the magazine at their home or in a doctor's office, library or other places sees the sweepstakes too. I have won from magazine sweepstakes and so have other readers so there is a chance that with all of the giveaways they offer you could still win too.