If you have been hanging out in the chatroom for any length of time you know that a Sweeties reader, Adrienne, won the single grand prize in the Mike's Hard Lemonade 10th Anniversary Sweepstakes that ended last year in September.
Because she had to go through so much to get the prize and then sell it she decided to wait to tell her final story until after everything was completed. Here is Adrienne's prize winning story.
What did you win?
The sweepstakes was originally for a 2009 Airstream 23′ Flying Cloud. However, when the trailer actually arrived and we requested the specifications sheet, it turned out to be a 2010.
What sweepstakes did you win it from?
The sweepstakes was through Mike's Hard Lemonade. This was the grand prize of the contest, and there were several other prizes available, including computers and some smaller prizes.
How did you win?
I entered this particular contest virtually everyday for the several months that it was up. Sometimes I used a free code that the website gave you, and sometimes I used codes off one of their products. The important part of winning, as with many sweepstakes, is that the computer picks a random time that wins, not a code.
How were you notified that you won?
As per the contest rules, I was sent an email and a certified letter. I received the email first, and once it was sent, the time limit of ten days for response began.
Who notified you?
As with many contests, the company which is the sponsor of the sweepstakes does not actually run it. Generally, the company hires a marketing agency who has experience running sweepstakes. I was contacted by a marketing agency.
What did you have to do to accept or decline the prize?
The contest allotted ten days for a notarized response accepting the prize. To decline the prize, the company asked that a response email be sent as soon as possible. Or, without a response in ten days, the prize would have been automatically forfeited.
After accepting the prize, what happened?
After accepting the prize, the wait began. The prize agreement said that the trailer would be delivered in six to eight weeks. An email was sent when it arrived in four or five. The marketing company contracted with a delivery company that sent the trailer to a RV dealership in the area.
What did you do when the trailer arrived?
While the trailer was top-notch and lovely, we knew it was not something that we would be able to keep. The first issue is that all prizes are taxable AS INCOME federally, and they are also taxable AS INCOME in states that have a state income tax. The MSRP on the trailer was $54,000, so we knew that we would have to sell it to cover the taxes. Since the trailer went to a dealership, we were able to pay them a commission to sell it nationally, which worked well because we never had to register it. If we had registered the trailer in our names and tried to sell it ourselves, we would have owed an additional 9% of the MSRP in sales taxes and registration fees. These registration taxes and fees differ from state-to-state. However, the lesson here is to make sure a large-ticket item that you do not intend to keep, such as a vehicle, is delivered to a dealership so that selling it is easier.
How did you sell it?
As mentioned, we paid the dealer a flat-rate commission to sell the trailer. He featured it on a major auction site and showed it to walk-in customers who stopped by. We never had to talk to any potential buyers or show the trailer to anyone, which was nice because it would have been nearly impossible with both of us working. A buyer from a nearby state saw the trailer on the auction site and offered us a very reasonable price for it. We accepted his offer, and the dealer handled all the paperwork and delivery of the actual trailer to the out-of-state buyer for us.
Would you do it again?
This was an extremely stressful experience on many levels. The variables kept changing, and we were not sure exactly how much we would be able to sell the trailer for, if we could cover our taxes in the end, or if anyone would really want it. Part of the issue is that almost no one has any experience with large prizes, and every person we talked to for legal advice about taxes, registration law, etc…had a different answer or simply was not sure. If the trailer had NOT gone directly to the dealership, the whole situation might have been disastrous. Now that we know what questions to ask and what to expect, it would be easier the second time around. However, if I won something large like this again and it did not go to a dealership, I would definitely think twice. The additional 9% in registration fees and taxes would have made it a very tight margin to clear for taxes and would make the item we were selling technically used, which would cut into the sale price. Overall, it was an interesting experience with an extremely steep learning curve. If anyone wins something like this again, I will be glad to help them with what I know.
Here is Adrienne with her Airstream prize.
Click on the picture if you want to see it larger.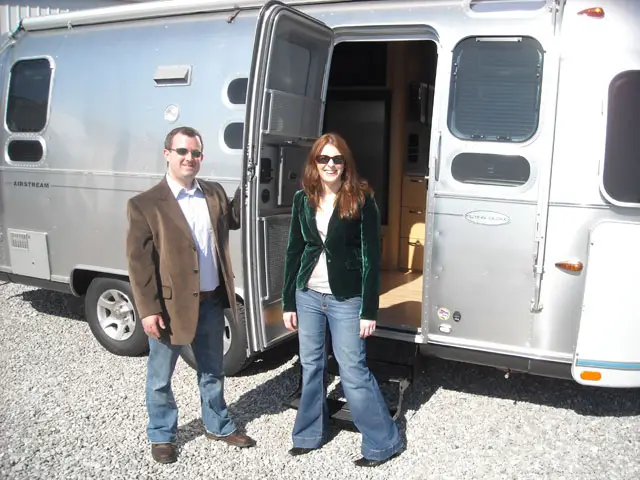 Disclosure: this sweepstakes listing
may contain
an affiliate or tracking link but we
do not use referral links
. Read about our
policies
for more details.