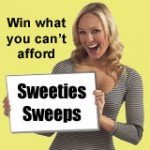 There are so many winners these part few weeks that I am going to have to write two posts to get them all in. If you sent me your winning story don't worry, I will post it on part two if you don't see it here.
Congrats to everyone. Your hard "sweeping" work is paying off. Win what you can't afford™, that's what I always say and readers are proving me right everyday. Don't you just love to be right 🙂
Here's a neat story from a reader that I thought I would share. It was left on one of the MyCoke posts in a comment and I think everyone should get to read it.
Wendy, I won the pizza and cokes last weekend and won on my fiance's site last night. I told a co-worker about the win's today and she said you are always winning something, I never win. I said do you enter? She said no, I don't know how..so she called up her MCR account and I walked her through getting her free plays and showed her how to play the game, and first try she wins a pizza! She was so exited she was yelling I won, I won! And We are in her cubicle at work! And I'm looking around for the boss to come over! And she gets on her cell phone and is calling everyone about winning this pizza.
And at the end of the day, she tells me she is own her way to get her pizza and it is her lucky day, Poppa John's is having a special, when you purchase 2 or more Coke products, you get a free Coke. It rang up on her online order and the charge was zero! I chuckled to myself and imagined her on her to way to pick up the pizza, calling everyone on the cell phone again shouting I won, I won again, a free Coke…LOL Sweetie, she knows about this site…if she joins I just see it now…quiet in the office and you hear from her cubicle all day "I won …I won again!"
Thank you, Sweetie, you made my day with this posting!
Billie
And here is another great story from Nik. She posted this on the Secret site and I though it was a great one to share with everyone here.
2010 has been absolutely marvelous to me. First I received my $1,000 check from a 1st place sweepstakes I had won in December from Little Cesars Big Bowl Bonanza Sweepstakes (it was a trip to see a college football game, but I opted to take the cash instead). Later, I found out I was the grand prize winner to the Time Warner Cable HD Holiday Giveaway in January. I won a Bose Home Theater System and Sony Blu Ray player (ARV: $2300).
I've noticed something about my wins – they come in monthly spurts. I won in January, so I didn't win nothing in February. I've grown to get used to this. Yesterday, I won an IWG for a $25 Target gift card, and decided, "Yep, after a month long dry spell, I'm due to win again.)
You ready for this?
I received an email from Marlboro saying I was invited to come visit at the Marlboro Ranch with a guest. Every year they select so many people from their mailing list to come stay at the ranch for however many days (everytime it varies).  I won a trip to Montana to stay in the Marlboro Ranch. 4 days, 3 nights. Airfare. Hotel Accommodations. $750.00 spending cash. ARV: $4560. What's best yet? I've done some research (while I was mentally jumping up and down in excitement) I found out that they treat their guest VIP when you get invited to this. You're sent free swag before the trip even begins and when you enter your room there is TONS of free swag there in your room waiting for you. Luggage that is sent to you to use for your trip along with your plane tickets, they even give you prepaid visa cards to use for the fees for the luggage you take. You have to tell them your shoe size, hat size, and clothes size so they can custom fit your brand new cowboy boots, hat, and other various clothing items. Some people have also gotten a brand new camera — By the way, this is for both you AND your guest. That's right, two of everything. HOLY COW!
Sweetie … Wendy. Thank you. I'm almost at my One Year Anniversary. As of April 2nd was when I officially started to "sweep". Since that date I have won $9370.62 worth of prizes. Never in my wildest dreams did I ever expect to win like this … here I am. I just want to really say thank you. Without all the advice and everything given on your site – the time you take every day to do all this and to teach everyone your "secrets" without charging is awesome. You've given me a new lifestyle more than a hobby. I've won prizes and now trips that never in my wildest dreams did I think I'd ever be able to take/have. Thank you.
Nikkole
Here are some winners from the Secret site.
There are lots more that I probably won't have time to post. Many readers are finding the $25 yearly fee is definitely worth the cost.
If you are looking for even more sweepstakes to enter visit my Sweepstakes Daily Digest. These are sweepstakes that I do not post on this site because they are not considered as winnable. I just post a summary of the rules and prizes and give you the link to enter, nothing pretty. I also posted sweepstakes on my Facebook Fan page that aren't always posted on either site.

All the first 6 winners were from the same sweeps:

I won a 100$ Publix gift card! Thanks for posting!

Amanda T

I won $100 gift card yesterday from this promotion!!

juneo27

I got a gift card yesterday from this one as well – that makes 2 $100 gift cards in a week!  THANK YOU SWEETIE!

Heather

I got one yesterday also.

shecar1

I got my gift card yesterday, thank you Sweetie!! I recently moved from Connecticut to Florida and I love the supermarkets here, Publix always has great sales.  The only thing I dislike about Florida supermarkets is that they do not double coupons.

mmerchant

I was a $100 winner too! Just received the gift card in the mail when I got home from work. I also got a promotion effective April 12th with a $5.00/hr raise. Wahooo this is turning out to be a great month.

savannahbetty
Oh my Gosh!!!  HERE it IS!!!!

THANK YOU, Sweetie!!  My hubby won this and he was just notified on Thursday (was a last minute alternate…someone else turned it down)…. and I couldn' t find where I won this from ANYWHERE!!!  (I belong to lots and lots of different boards… "paid" ones, free ones and networking groups .)  I think YOU are the only one that had this sweep!  And we had an awesome time! This is my first win from this board.  You've got a customer for life, now… : )

Karen in Florida
My son won an art box from this contest.  He's 4 and is thrilled!  He loves doing art, so I printed out the drawing page and asked him to draw a snowman picture.  I didn't tell him it was a contest b/c I didn't want him worrying about his drawing being good enough or being disappointed if he didn't win.  I just told him they liked to decorate their stores with kids' drawings.  🙂

Yesterday he received a FedEx package in the mail- there was a very nice letter from them,  plus lots of art supplies!  It's a small win, but a really fun one for me and my son.

Thanks for posting it, Sweetie!

Steph
People were emailing me at work that they heard my name on the radio, but didn't catch what I had won.  Of course our work firewall wouldn't let me go to the station's website…so I was dying all day.  So excited when I got home —

Congratulations!  You won a prize after entering the Breathsavers Sweepstakes with 106.5! You won: a 32gb iPod Touch® and a Bose docking station with speakers!

I am so glad I found this hobby!  I'm really loving the radio station contests….my hubby & I have 3 wins in 3 months! (just won that Flip camera last week)

hillgirly
Here are winner's stories from the main site now
Janet received this email:

We are thrilled to inform you that you are the Grand Prize winner of our Tell Him 1 Thing Facebook contest! Thank you so much for your clever entry, it made us laugh out loud! Kindly email us back with your mailing address as well as your first and second choice IPod Shuffle color preferences. Your prize will be mailed to you within the next thirty days. Thank you so much for participating! www.emmaandnicola.com
I wanted to thank you for my new hobby.  I don't remember how I ended up at your website the first time, but since around New Year's Day I've been entering as much as I can almost every day.

My first win was a Doggie Dinner Pack for being one of the first 1,000 to enter the Chef Michael's contest.  Not a big prize, but was I ever excited! I also won my jar of Pace, a Love Rocks Mist Fragrance from VC Wildcard Game, a Phillips 66 $25 gas card, and a Bare Escentuals Rethink What Matters 3 piece set with lip color, lip liner, and gloss ($41).

I haven't won anything "big" yet, but I'm having a blast!

Mary
In the month of February 2010 I won $200 check from a Chase sweepstakes and a pair of 1/8 C.W  diamond studs in the brides.com sweeps valued at $114 – good start to the year.

Susan
I just got a Leap Frog Tag Reader System in the mail. It was from the Learning Adventure Sweepstakes. It was a great surprise to see, I did not know I had won.

value of almost $50

Thanks,

Heather
January was a dry month for me, but February picked up considerably with lots of little wins: I was a runner up in the Oprah Mag "A Greener Living" sweep and received a surprise package of all kinds of Scotch-Brite Green Clean products. I was also a daily prize winner in the SkyMall Shopping Spree Sweepstakes and received a $100 giftcard from them! I also entered a superbowl sweep sponsored by Sirius Radio in my husband's name and won a gift bag that included Superbowl commemorative items: duffle bag, golf shirt, baseball cap, lapel pin and the Official Game Program. I also won a box Kashi bars, cookies and two gallons of free milk!

I'm on a roll here! I think it comes in waves or something!

I will have started six months ago on March 28, so I am anxious to see what my six month anniversary of sweeping will bring!

Laura B.
Hi Sweetie,

I've been entering sweeps since January. So far I've won:

– $20 HoneyNut Cheerios Instant Win

– Box of Nature Valley Oats & Dark Chocolate

– RareMinerals Active Triple Eye Treatment and Smokey Eye Kit from Rethink Bare Escentuals

– 100 Bonus Box Tops from Safeway Back to School Sweeps

– $10 Restaurants.com GC

I love your site. Thanks for the great info on sweeps!

Rose
March 6: I just won the Maytag HE Washer and Dryer set from the Power Up Your Detergent game.

Thank you so much for your site!

: )

Melanie
March 21: OMG! I just won a washer and dryer! My biggest win yet!

Nicole
I won the ALMA bag giveaway worth $1600.00. I will send you a picture when I get it. I can't thank you enough.

Jamie
February was a slow month, Sweetie. Only wins were a Pace salsa and a bunch of Nestle Crunch bars. Still, the small wins were fun, and things are already looking up for March!

Thanks,

Shannon
Hi Wendy,

Today I won a Flip MinoHD™ Camcorder in the AT&T's Explore, Experience and Win Online Game. It a has as SRP of $199.00, I'm very exited about this. Some smaller wins since the last time I emailed you are, a box of Nature Valley granola, $10.00 from restaurant.com, a free foot long from Subway, and a movie download from Pepsi (this is also on Facebook).

Thanks for everything,

Karen
I got an unexpected win in the mail today it was a $100 GC for sky mall from the daily shopping spree sweepstakes!

Crystal84
I just realized I never wrote to let you know I won something! I won a $50 NFLShop.com gift card from the Dave & Buster's sweepstakes a few months ago. I didn't even know I won… it showed up in my mail unexpectedly! Thanks for having this awesome site and hopefully this is the first of many wins for me.

Zachary
Yesterday I won a $10 gift card to cooking.com from the Turn the Tub Around game. Today I won a pair of stainless steel tongs from the Kikkoman Chinese New Year promotion.

Mark
Sweetie,

After 8 months of small scattered wins, to say I was getting discouraged would be an understatement. I got an email today saying I won $500 from the $500 a day Holiday Giveaway sponsored by Progressive. It was a daily prize sweep that ran the month on January. While not a major prize, it is nice to win something besides some swag or $5 GCs. It was a much needed shot of confidence (and cash !)

Frank (gafrank)
Hi Sweetie,

I just won a $100 gift cert for one of their stores or an online purchase. I can't wait to go and spend it. Thanks for posting the contest.

Sally
Do you have a win to share? Send it to me at [email protected] and I will include it in part two of my winners post.