The winners of the sweepstakes envelopes are:
Cher chercoscia@
Michelle shellyperry@
Diane dfrenchkss@
William poohbeardays@
Christina chrissiemz@
As this hobby grows, more and more people are entering Internet sweepstakes and this actually makes mail-in sweepstakes more winnable. Several years ago Internet sweepstakes were not well-known and traditional sweepers only entered through the mail. Today, the Internet boom has made entering sweepstakes so easy and it also makes them harder and harder to win. Even people who don't call it a hobby enter an occasional Internet sweeps because it is so easy.
If you can find a good mail-in sweepstakes that doesn't have an Internet option you have a winnable sweeps on your hands. Or, if you can find a mail-in sweepstakes that can only be entered through a purchase or by mail then you have a winnable sweepstakes. Many times this is exactly what we post on the secret site.
Online sweepstakes require Internet access and usually Roboform to make entering easy. Mail-in sweeps have their own supplies like 3×5 cards, 3×5 papers, pens, envelopes, and stamps.
Cindy from Sweepstakes Supplies wants to introduce you to her sweepstakes supply business by giving away packs of envelopes to 5 winners. Each winner will receive 50 envelopes. Cindy and I recently met up at the Affiliate Summit in Las Vegas. It was quite funny to see her there because both her and I seemed out of place. It should have been a sweepstakes convention and not an affiliate conference.
Cindy has been a sweeper as long as I can remember and she has owned her business for a quite a long time. She only sells quality supplies and I know you will like what she has to offer.
She also has a lot of information on her site that I do not cover like how to get involved with local sweepstakes clubs and information about the national sweepstakes convention – yes, there is one every year. Cindy also writes a monthly email newsletter and gives sweepstakes supplies away each month through her newsletter so you should check it out and join because it's free and you will learn a lot from Cindy.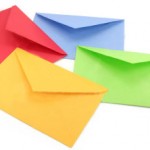 Look through her site and you will find all kinds of cool mail-in sweepstakes supplies. Her specialty is envelopes. These are not your ordinary white #10 envelopes. They are all colorful and decorated. When entering a local giveaway colorful or decorated envelope may help you win if the drawing is done in a small office where the person reaches in the bin and sees the entries. While this is not how a big national sweepstakes is run – it is usually automated by computers – it is often how a small, local giveaway is handled. And while there is nothing you can do to keep the drawing fair, you can make your entry interesting in case it is seen. That is where these colorful envelopes come in. And, if they don't help you win at least they can keep you excited about entering while you are filling them out. Many times I get bored just sitting and filling out all white envelopes. Right now I have a huge stash of colorful greeting card envelopes someone gave me so I switch between white and color to keep me interested.
Cindy also sells postcards and has an envelope giveaway on her blog as well so check that out when you have time.
How to Enter Sweeties Sweepstakes Supplies Giveaway
Fill out the form at the bottom of this post. Only one entry will count per person.
Please do not use multiple emails for yourself. You may enter for your spouse, family member or your friend but only one entry per person. Duplicates will be deleted and the entrant will be disqualified.
Prizes: There will be 5 winners. Each winner will be receive a pack of 50 #10 business-size envelopes with two different colorful and eye-catching designs. The picture above does not represent what you will win. Cindy will send you a variety.
Giveaway Rules: This giveaway is only open to residents of the United States who are 18 years of age or older. Ends on Sunday, February 28, 2010, at midnight EST. The email addresses that are collected for this giveaway will only be used for the purpose of contacting the winner and will never be given out to anyone. The winners will be randomly chosen and contacted via email. The winner will have 48 hours to respond to my email. Please make sure you check your junk mail folder. The winners will also be posted on this site.