When Pampers asked me to try out their new Pampers Cruisers with Dry Max diapers, I'm thinking, here kitty, kitty, kitty, you know you want to be my test baby. And the cat said, "not on your life lady", and ran the other way. Luckily I have a granddaughter, Paisley Ann age 5 months, in the family who is the perfect age to be the test baby so the diapers went to my daughter-in-law Lauren. That's a picture of my granddaughter to the right.
Here is what Lauren had to say about Pampers Cruisers with new Dry Max technology: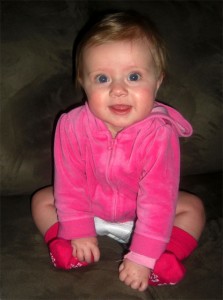 Pros: smooth, soft outer cover, fabric-like material inside, extra stretchy side closures with no sharp edges that fasten securely.  Passed the "pee pee" test with flying colors (over night use). Inside leak- free gathers appear comfortable, no complaints from Paisley.
Cons: failed "poopy" test (contents spilled over the back waistband of diaper…in fact the only diaper that I've ever used that actually has a feature to prevent this are Huggies Little Snugglers and Little Movers). Expensive price in stores, comparable results from cheaper brands (Luvs) .
Because Paisley does not crawl, I was unable to decide if they were good for "cruising". but overall I'd say that these are pretty great. If they weren't so expensive to buy, I would continue to use this brand.
To be fair to Pampers, after talking to Lauren we both agreed that Pampers are a great diaper and that "poopy" test failure was really because the diapers were a tad bit small on Paisley and that most diapers seem to do this, not just Pampers. Overall this was a very good, and honest, review from Lauren and much better than I could have done chasing a cat around the house, although it sure would have made for some great pics.
According to Pampers the Dry Max Technology is "applied it to the current Swaddlers and Cruisers core, which allows the diaper to be 20 percent thinner than current Pampers Cruisers without sacrificing any performance."
New Pampers Swaddlers and Cruisers with Dry Max have game-changing benefits for mom, baby and the world:

For Baby: They are our driest diapers ever and the new, revolutionary Dry Max™ technology helps lock wetness in for up to 12 hours. The new thinner core gives baby freedom to move and play with all-around softness to keep him comfortable so playtime never ends.
For Mom: The thinner design allows mom to carry or store more of them within less space. She can also be confident that she is getting a hard working diaper for the same great price. (The product is being offered to retailers at the same price. Pricing is at the sole discretion of the retailer.)
For the World: They help you reduce your impact on the environment. If current North American Pampers Swaddlers and Cruisers users switched to the new Pampers with Dry Max diaper, they could together throw away the weight of a billion less diapers every three years. (Based on 08/09 volume for Swaddlers/Cruisers.)
FREE PAMPERS! If you didn't already know, Pampers is giving everyone a chance to try their new Cruisers with Dry Max technology. Just join P&G Everyday HERE or sign into your existing account HERE to request your free 3-pack of Pampers diapers. These free samples are available until March 31, 2010.
Also, make sure you enter the Pampers Sweepstakes to win a year's supply of Pampers diapers HERE.
When you join P&G Everyday and the Pampers Community you can also use points, like the ones on my Pampers Code List, to get free stuff and win more prizes from the Pampers Gifts to Grow program.
How to Enter Sweeties Pampers Giveaway
Pampers wants to give one Sweeties reader the chance to win a very cool, ultra chic, clutch and Pampers to go with it. The clutch retails for $50 and is 100% polyester with genuine leather trim.
Click on a picture if you want to see the prize larger.
Leave a comment below. It doesn't matter what you write but you can only enter once.
Note: You may enter for your spouse, family member or your friend but only one entry per person and each person must have their OWN email address. Duplicates will be deleted and the entrant will be disqualified.
(1) Prize: One lucky winner will receive a Liz Lange designer diaper clutch AND a redeemable coupon for a free week's supply of diapers of the all-new Cruisers with Dry Max (one pack of 27 diapers). I am not sure but I think you also get a pack of wipes.
Giveaway Rules: This giveaway is only open to residents of the United States who are 18 years of age or older. Ends on Monday, March 15, 2010, at midnight EST. The email addresses that are collected for this giveaway will only be used for the purpose of contacting the winner and will never be given out to anyone. The winners will be randomly chosen and contacted via email. The winner will have 48 hours to respond to my email. Please make sure you check your junk mail folder. The winners will also be posted on this site.
FTC Disclaimer: Pampers sent me one package of Pampers Cruisers with Dry Max to test out. I was not paid for this review nor to host this giveaway.