Now that you know how to enter Twitter contests you will also want to know how to find out if you won a prize from that Twitter giveaway you just entered.
Cher asked:
No too long ago after reading your column on Twitter contest I decided to sign up. However I really only go onto Twitter to enter a contest. I was wondering if I actually won something would they email me or twitter me directly to let me know I won? I was wondering if it was all up to me to research it and keep up with Twitter. (" like the saying goes you snooze you lose"?) situation?
My Answer:
With a Twitter contest you will be notified in one of two ways. You will get a Direct Message – often called DM, or you will get a Mention or Reply. A DM is private and on one else sees it. A Mention is public and everyone sees it.
A mention is often used if you are a part of a Twitter party because everyone at the party will want to know who won. In that case you are usually actively using your Twitter account so you would know if you won or not.
If you get a DM you will usually get an email telling you that someone has sent you a DM. You can click on the link in the email to find out who it was and what they said. It will take you to your Twitter account where you will need to log in to see it.
You do not get notified by email if you receive a Mention unless you setup your account to receive an email. You would need to check your Twitter account to see those.
To make sure you have Twitter email notifications setup:
Log into your Twitter account at

www.twitter.com

Click on your name at the top right and then

Settings

.
Click

Notifications

.
Click next to, "

Email me when I'm sent direct message

" and then click Save to receive emails about DMs.
Click next to, "Email me when I'm sent a reply or mentioned" and the click Save.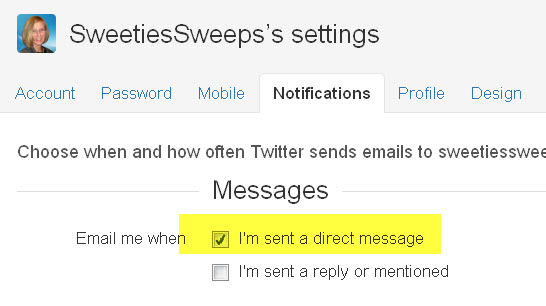 To check your Twitter account to see if you were mentioned:
Log into your Twitter account at

www.twitter.com

Just under the "What's happening?" box look for the @ and your user name and click on it.
That is how you will see who mentioned you publicly and tagged your Twitter account.

To check your Twitter account to see if you have Private messages (DM):
Sometimes a company will send you a DM – direct message – which is private and no one else but you can view it. They have to be following you and you have to be following them for them to send you a DM. Here's how to check for private messages – you can also find out if you have a message if you select the option above to have it emailed to you.

Log into your Twitter account at www.twitter.com
Click Messages at the top of the page.

If you are entering sweepstakes on Twitter or participating in Twitter parties make sure you check for these message regularly or have them sent to you by email so you don't miss out on a prize.

Disclosure: this sweepstakes listing
may contain
an affiliate or tracking link but we
do not use referral links
. Read about our
policies
for more details.