When you enter a blog giveaway you usually have to leave a comment. If that blog owner use Blogger.com as their blogging platform you will see a screen that looks like this. If they use another service you will see a different screen but those are much easier to figure out. Blogger is a little bit confusing so I thought it would be good to explain it just a bit.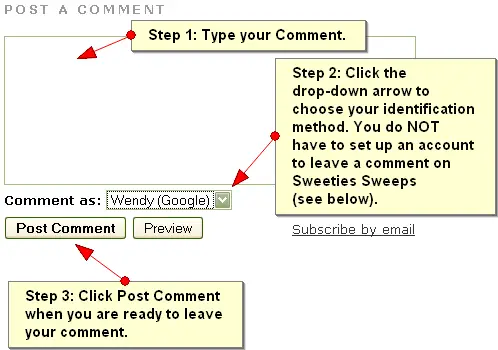 Step 1: First you will want to Add your Comment.
Step 2: Second you will need to Choose Your Identity or basically, how you want the public to know it is you leaving the comment. Click the drop-down arrow to pick your method.
Identities Explained: If you have a Google or Blogger account choose that option. You might have to log in if you aren't already logged in but you can do it right from this screen.
If you don't have a Google or Blogger account pick one of these options:
LiveJournal
WordPress
TypePad
AIM
Open ID
Name/URL
Anonymous
If you are using LiveJournal, WordPress, TypePad, or Aim, just log in using your user name and password for those services. You must have an account on those services to use that option.
Open ID: Another service that allows you to setup a user name and password found here http://openid.net
Name/URL: Just fill in your name and the URL will be the address of your blog or website. This site uses DoFollow.
Anonymous: If you don't have a blog or website you can use this option. Just make sure you put your first name and your email address in the comment area or the person trying to contact you will not have a way to contact you.
How do I enable my email address in my Blogger account?
If you are entering blog giveaways on blogs that use the Blogger.com service you will want to enable or show your email address in your Blogger account.
If you have a Blogger account you will need to enable your email address in your account so it can be shown on your profile.
1. Go to www.blogger.com and log into your account.
2. Click Edit Profile (on the left).
3. Locate the line that reads, Show my email address, and click in the box to put a checkmark in it.
4. Click Save Profile at the bottom of the page.
5. Click View Profile (on the left) and you will see an Email link on the left now.

Disclosure: this sweepstakes listing
may contain
an affiliate or tracking link but we
do not use referral links
. Read about our
policies
for more details.