If you want a way to save your sweepstakes to a convenient list, try using the Favorites List on Sweeties Sweeps. The Sweeties Sweeps Favorite List is a great way to save the sweepstakes you find on SweetiesSweeps.com. You can keep your sweepstakes all on one list and it will help you enter sweepstakes much faster too.
How to Save Sweepstakes to Your Favorites List
Click on any sweepstakes listing on SweetiesSweeps.com and look for this Add to your Sweeties Sweeps Favorites List link near the top of the page.

How to View Your Favorites
Click Favorites List from the toolbar at the top of any page to see everything you have saved to your list.

You will need to create an account or log into your existing account to use your Favorites List.
How to use the Favorites List
How to Enter Sweeps: To enter a sweepstakes just click the words next to Enter Here.
How to View Sweeps Details: To view all of the details about the sweepstakes click the title and it will bring you back to the original sweepstakes listing on SweetiesSweeps.com. The end date and how many times you can enter and age limit will be listed in the title so once you know you want to enter this sweepstakes on a regular basis you don't even have to go back to the original post.
Note: To figure out what the entry limit shortcode mean, 1PPD, 1PP, etc., click here to view the shortcode summary list.
How to Remove Sweeps: Click the Remove button on the right to remove the sweepstakes from your favorites list once it is over or you don't want to have it on your list any longer.
How to Clear the Whole List: Click Clear Favorites at the bottom if you want to start your list over.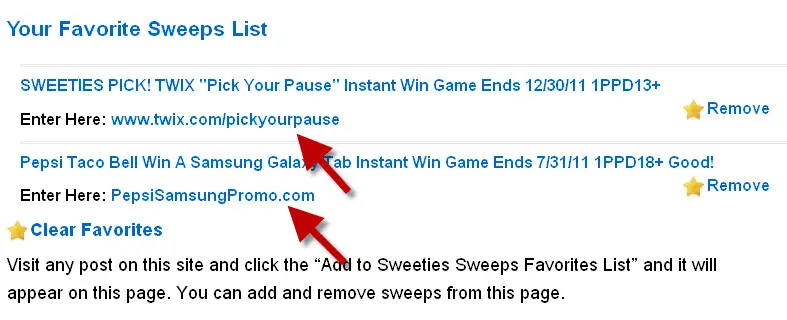 Do You Hate Seeing Ads?
Join Sweeties Secret site and never see another ad. And get all of your Sweepstakes in one place, get local sweepstakes for your state, bonus sweepstakes not shown to our public readers, a Favorites List to keep everything on, all on an AD FREE Site!